Linen, Cotton, and Vinyl Tablecloths
It's no secret that a beautifully set table can transform any event. Whether you're hosting a wedding reception, a corporate gala, or a simple family gathering, the right tablecloths can completely elevate the space to a luxurious, elegant level. Here at Premier Table Linens, we help customers create the event of their dreams by offering a wide range of high-quality table linens at affordable prices. Our extensive selection of cotton tablecloths and vinyl tablecloths includes a wide range of options to suit the specific needs and preferences of our customers. No matter what event you're shopping for, we guarantee we have the product for you!
Select Your Tablecloth Shape or Select the Fabric you want


Brides love the 74 colors


























We suggest you look at our different fabric categories (All fabric categories are listed above and on the left menu. Make your fabric selection and then scroll down the page to see your selections in chosen fabric) to learn about the different fabrics and options. We will gladly mail fabric and color samples of any linen tablecloths you are interested in. We also urge you to visit our tablecloth calculator page to confirm the sizes needed and we also suggest consumers visit helpful hints and FAQ sections. If you still have any questions, please feel free to call or send us an email. Custom sizes can be made to order and generally are manufactured and shipped within 24 hours of your order being placed.
Whether in the market for just one linen, table overlay, or table cover for a dinner party, catered events, special event, trade shows or convention, or a bride or a hotel purchasing hundreds of wedding table linens, we would love to earn your business and have you as one of our valued customers.
Tablecloth hemming options
Most of our linens come with an option to choose your hem option. We have 2 types of hem available. Our most popular and commonly sold is the merrow sewn hem (shown on right side of image) this is our default or standard hemming option. You can choose to have our rolled stitched hem (shown on left) this is when we roll a 1/4 inch of the fabric and then stitch the hem. You can select this when available on the product page for the tablecloth you are ordering.

Choose the right drop for your tablecloths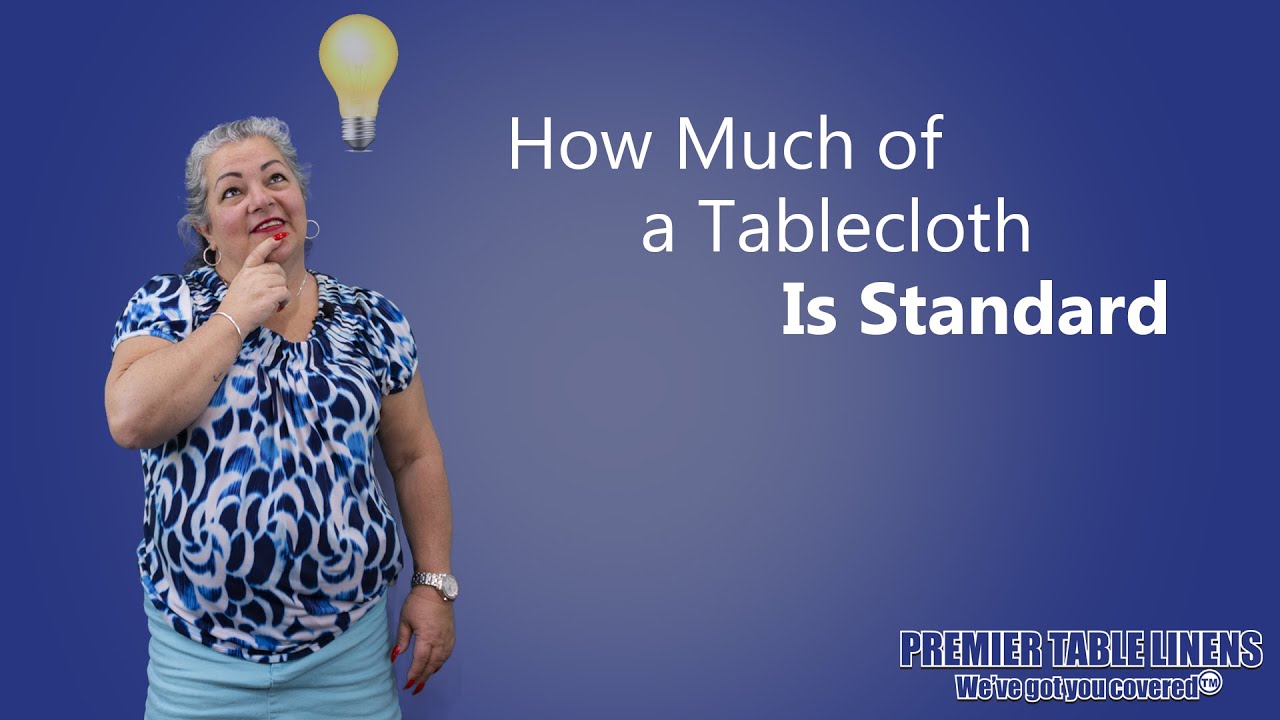 Our collection of tablecloths is designed to provide you with an array of options, ensuring that you find the perfect tablecloth to complement your event's theme and décor style. From classic and elegant to contemporary and vibrant, we truly have it all! Our products are available in various sizes, shapes, and materials, allowing you to create a customized look for your tables. Popular options include rectangular, round, square, oval, serpentine, and hex-shaped table linens. Additionally, most of our linens come with the option to choose between two hems: the standard merrow hem and the rolled stitch hem.


Whether you're hosting an intimate gathering or a grand celebration, our table linens are crafted to impress. We always source our fabrics from trusted manufacturers, ensuring that each tablecloth is made from premium materials that are both durable and visually appealing. With attention to detail and a commitment to quality, our pieces are designed to withstand multiple uses while maintaining their impeccable appearance.

At Premier Table Linens, we believe that every detail matters. That's why we offer a range of tablecloth options to suit different preferences and occasions. Choose from classic solid colors for a timeless and sophisticated look, or explore our patterned options to add a touch of visual interest to your table setting. Additionally, our tablecloths are available in various fabrics, including polyester, satin, spandex, cotton, and vinyl, allowing you to select the material that best suits your event's aesthetic and practical requirements.

We're extremely proud to be your top destination for exquisite table linens! Feel free to browse our collection today and discover the perfect tablecloth for your next event. If you have any questions or need assistance in choosing the perfect tablecloth, our friendly and knowledgeable team is here to help. Please contact us at 1-800-937-1159 with any questions or concerns. We look forward to hearing from you!