Drapery For Pipe and Drape Trade Show Displays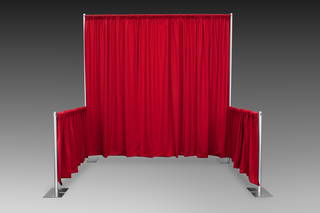 If you are looking to buy pipe and drape backdrops, trade show booths, and portable photo booths, these are our linen specialties! We supply hotels, conference centers, schools, trade shows, churches, party rental stores, and many other businesses with our made in the USA drapes now available in 3 different fabrics.
Our pipe and drapes are used by many of our clients all over the USA. Pipe and drape is an effective way of converting a commonly used space into a brand new look. For example, if you have a big meeting hall for 100 or so people, but your current event is only for 20 people you can divide up the room easily with drapes, and with 3 fabrics and over 100 colors to choose from you can have a new look for every event, and every space. It's also a great way to emphasize a podium or draw attention to a specific area of an event, and make sure that your attendees are drawn in that direction.
Now available in our Premier Polyester, our "workhorse" fabric, which is easy to care for with machine wash and stain release, wrinkle resistant. Our pipe and drapes are also available in 74 vibrant colors that will compliment any conference trade show or wedding. We also now have our drapes available in Spun Polyester and our Duchess fabric line.
When buying your pipe and drape online make sure you check out all of our options for both fabric and colors as we have the very best selection online. If you have any questions about sizing or finding the best choice for your next event, please feel free to reach out to us. We would be happy to help you make your next event a rounding success.