Fandango Herringbone Pattern Tablecloths & Overlays
Dupioni or Satin Your Choice With Majestic Reversible Tablecloths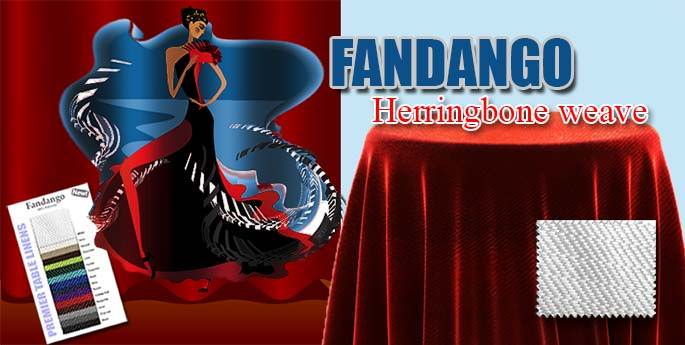 Are you looking for a classic herringbone patterned table linen? If so, then you have just found it. Fandango tablecloths and overlays with the stylish herringbone weave are a perfect choice for your next event. They add a touch of refinement, and complement a wide variety of décors. Our Fandango herringbone tablecloths are also available in 15 colors. This means, that no matter the color needed for your upcoming event, we have something that can match the current theme. Our slight herringbone pattern is just enough to add a stylish twist to the tablescape. Each Fandango herringbone linen offers a soft satin sheen, is made with 100% poly poplin polyester, and drapes very elegantly across your tables. No seams on linens up to and including 120".
• Treated with soil-release for stain resistance.
• Wrinkle resistant, no lint.
• Excellent color retention.
• Available with standard merrow hem or rolled hem option.
• Made to order. Manufactured in 24 hours. Large orders may take up to 48 hours.
• Each product has color swatch photo on the listing for you to view color options.
• Complete line, matching napkins, table runners, table skirts, fitted tablecloths, overlays, chair covers, and sashes available.
• Best prices anywhere, both retail and wholesale, guaranteed.
• Easy to care for, and extremely easy to maintain. Wash warm, Tumble dry low. Remove promptly. Fold and store until event.
• Product sizes are tablecloth size, not table sizes. For sizing your tablecloth use our tablecloth calculator.
• Product pictures are for color representation only. Pictures / Images do not indicate drop of tablecloth as this will vary depending on your table sizing.
• Looking for fitted tablecloths in Fandango herringbone? Click here