Frequently Asked Questions
Premier Table Linens | FAQ's
Q: What size tablecloth do I need?
A: Probably the most common question we are asked, and it is a great question. Your size of your tablecloth depends on a couple of factors. Firstly you will need to know the size of the table that you are setting. This will be the first piece of the puzzle for sizing your table linen. We / you will need to know how much of a drop do you wish for on your tablecloth. General rule of thumb would be that you are looking for a dining table drop length something like 12 to 15 inches. Or you may be looking for the fully draped table look in which case you will need your table linen to drop to the floor. Your fastest and easiest way to size your tablecloth is using our tablecloth calculator you can find that by clicking here.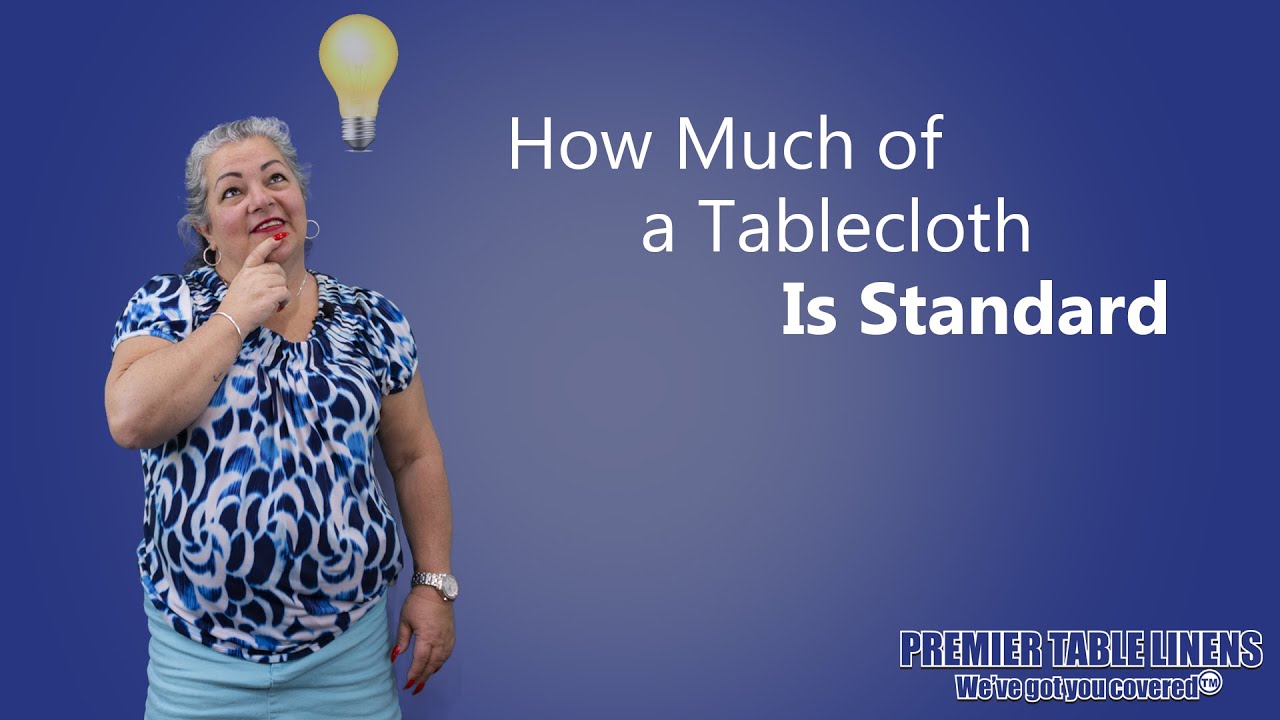 Q: Can you make a custom size tablecloth? If so for how much?
A: Simple answer is Yes! We will custom make any size tablecloth, linens, in any of our fabrics. Dependable upon your table shape and size we may be needing a sewing template or a fabric cutting template. If you are needing custom sizing you should call our tablecloth experts in our Fabric department at 800 937 1159 for pricing and production time. Most custom cut and sew is completed and shipped within 48 hours of the order being placed with us. Larger jobs 200+ pieces may take longer. Your table linen adviser will explain everything to you on the call.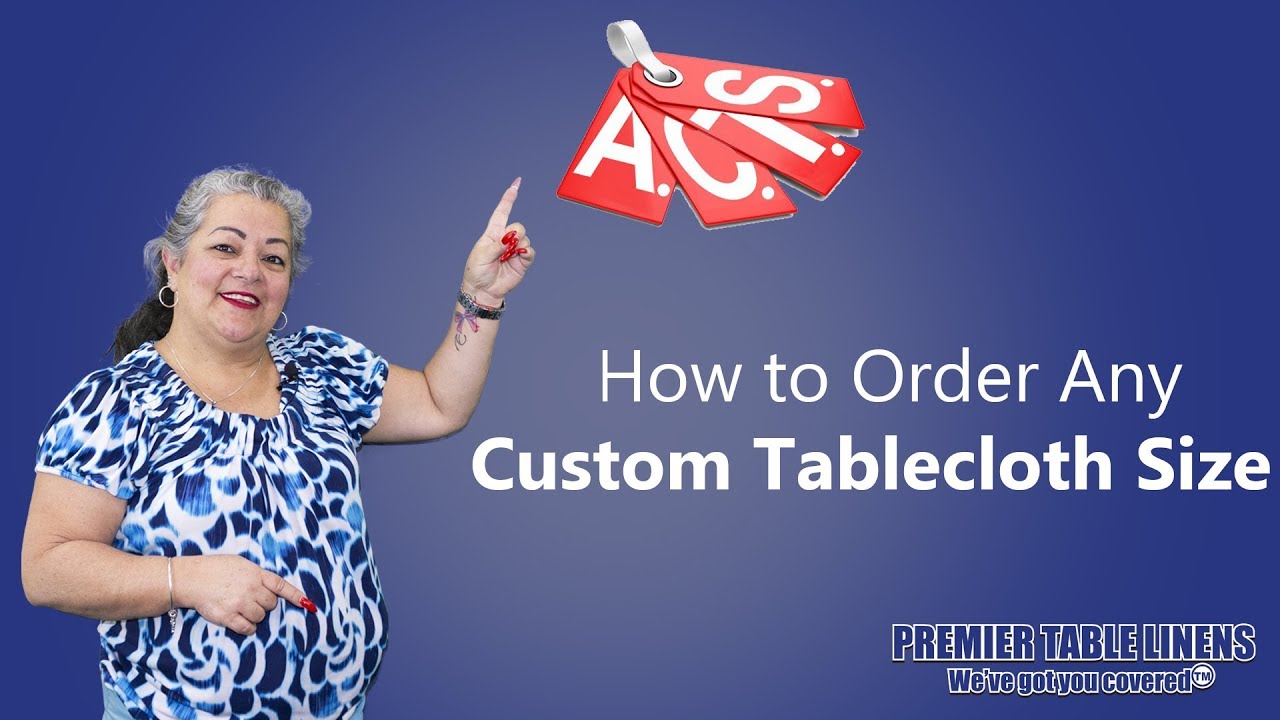 Q: How much and how long for shipping?
A: A very great question, Premier Table Linens ships from 2 locations. Either Florida or New Jersey. The best way to get your shipping costs in real time is to add all the table linens napkins and other great dining linens to your cart. When you are on the shopping cart page you will see a box to calculate your shipping costs. Enter your Country State and Zip or postal code depending upon country and you will get live real time pricing from both USPS and UPS.
Q: What is the right way to fold my tablecloths?
Some of our senior staff members answer this question in the video below.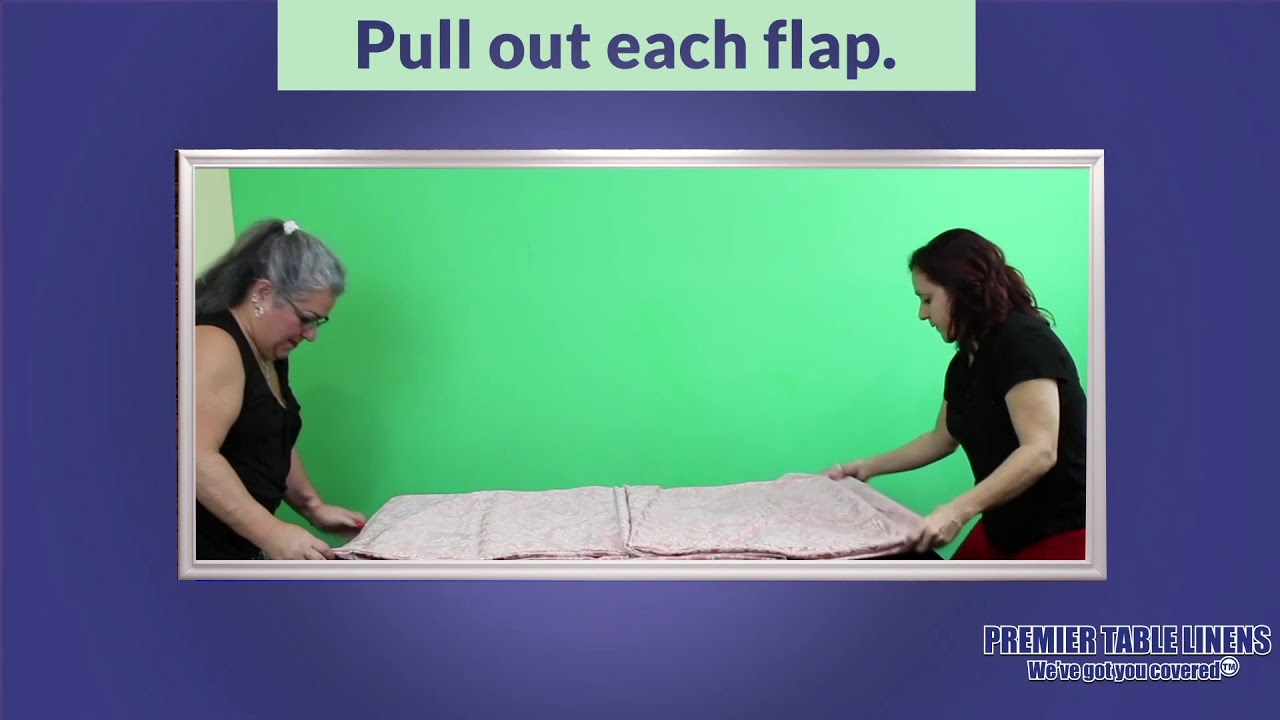 Q: Do you have any coupon codes or promotions going on now?
A: Periodically we do have promotional codes and discounts, generally these are sent out to customers on our mailing list, we also promote these codes via social media so be sure to follow us on your favorite channels. You will find links to all our Social profiles on the top left of the website on the header on each page.
Q: I'm having trouble checking out on your website.
A: Occasionally we have a customer that is experiencing issues with using our website. In order for us to best serve you and solve the problems we need to ask for 2 minutes of your time so we can troubleshoot the problem. Due to changes and advances in Internet security, your browser or operating system may be out of date and therefore considered unsecured in today's technology. One of our customer support team will walk you through the process. it takes a couple of minutes and helps all of us have a better online shopping experience.
Q: Where do I find more information on your custom tablecloth printing?
A: For Printed product details, artwork specification, cleaning and caring for your printed table covers. Click here for printed FAQ Help.
Q: I placed my order but didn't receive a confirmation email?
A: Occasionally our system has a hiccup, but more often than not the problem is an incorrect email that has been entered on the online order form. If you have not received a confirmation email, please wait at least 15 minutes as the system may be backlogged. Should you still not receive an email please call us at (800) 937-1159 ext. 1 and we will resolve the issue with you on the phone.
Q: When will my order ship?
A: Orders placed before 2 PM EST are processed the very same day, shipping the same day or within 24 hours of being received (dependable on manufacturing time and stock level.). Orders ship from either Florida or New Jersey dependable on the products ordered. Custom sizing orders or orders of a large volume may take a little longer to fulfill, your representative will advise you of delivery time frame.
Q: So many table skirt fabrics, which is right for me?
A: Poly Knit, Poly Premier and Poly Stripe are by far our most popular table skirts. The other fabrics are higher end fabrics for weddings, very special events and for customers wanting an even more impressive table skirt.
Poly Knit table skirts have the look and feel of silk. An inexpensive table skirt good for occasional use such as trade shows, meetings, semi-annual event or gathering. Like all our table skirts, Poly Knit is manufactured in the United States and it is a much superior alternative to low-cost table skirting than any imported table skirt!
Poly Premier and Poly Stripe table skirts are the biggest sellers for weddings, conventions, displays, special events and any formal occasion. Fine dining establishments, caterers, hotels, resorts, event planners, wedding planners and party rentals love the elegance and durability of the Poly Premier, Poly-Stripe and Spun Poly (which is even softer) table skirts.
Q: Which skirting pleat is best for my needs?
A: We offer table skirting in two pleat options. Shirred is a gathered pleat and the most popular. Box pleat is more expensive due to the fact that box pleat table skirts are handmade by skilled craftsmen.
Q: So many tablecloth fabrics, which is right for me?
A: Poly Premier is our biggest sellers but all our tablecloths are very popular, elegant and fashionable. We have tablecloths for every occasion, personal preference and budget. We suggest consumers take the time and read the descriptions for the different tablecloth fabric listings in addition to looking at the pictures of the fabrics. In addition to Poly Premier, we have some beautiful patterns including very well known, prestigious Damask collection to Bombay Pintuck and Duchess both which are hot trends in 2015. Narrow down which fabrics are most appealing to you and then request sample color/fabric swatch cards of these fabrics.
Q: Do you offer any additional discounts for large orders?
A: In general, no. Each product is priced at our best and very competitive retail pricing for individual sales and wholesale pricing tiers based on volume discounts up to 100 tablecloths. Customers looking to purchase more than 100 tablecloths of one size may be eligible for additional discounts. Please call us to discuss your needs if so. Be sure to join our mailing list to be informed of special promotions, some only offered to existing customers that are on our mailing list. There is one more discount pricing we offer, see next paragraph.
Q: Do you have a physical store?
A: Yes, we do. We are located at 7321 NW 35th Street, Miami, Florida 33122.
Q: Where can I see more of your products?
A: You can see more of our products in many places on the internet, we have listed a few of the resources here for you.
Q: Where can I upload my artfiles?
A: Up to 25MB can be emailed directly to us at printedlinen2@gmail.com larger files use the upload link this will work for up to 2GB: Click here to send us large art files.
Q: How to clean red wine spot?
A: Red wine is the hardest to remove. Immediately pour a good of salt on a fresh spill. The salt will pull it out of the linen, prevent it from soaking in, then brush the salt off and apply dish soap.
For the stain that you have that has soaked in and settled in, get OxiClean. Disole a 1/4 cup in enough warm water to submerge the portion of the cloth with the stain. Let it soak for 30 minutes to several hours. After a long soap, blot the stain up but do not brush it, blot only, them launder the tablecloth.
Q: How to remove ink marks ?
A: Spray with hair spray and let area soak. Them blot with a damp cloth before laundering.
Printed Linen Products | How To Contact Us & FAQ's
Premier Table Linens has a team of professional graphic designers dedicated to making sure that ordering printed table covers and custom printed products is easy and that the finished product(s) meets or exceeds your expectations. If you have any questions about ordering, proofing, and artwork, in fact any step of the process, we urge you to call us. One of our design team specialist will be able to explain everything to you and will be assigned to your project. They will follow your order through the entire print process personally for you and be in direct contact with you from start to finish.
Here's how you can get in touch with a member of our team to help you. You can email the department at the address graphics@premiertablelinens.com. You can contact us via our live chat service on the website or give us a call. We like to hear from our customers and we value our interaction with you. We have also found from experience we can much easier and better assist and answer any questions and concerns over the phone. Our toll free number is (800) 937-1159. We are available 8:30AM to 5:30PM Eastern Standard Time Monday through Friday. It will be our pleasure to assist you in your printed table cover questions.
What Promotional Products Are Offered?
Logo table runners, custom tablecloths, branded fitted table covers, table skirts with logos, stage skirts, branded garbage can covers, water drum covers, step and repeat back drops, cloth banners (not cheap vinyl), portable pop up displays, custom printed Burlap products and personalized napkins are all items that can be promotional items perfect for sharing your brand. We are a one stop company for all your printed linen needs as well as non printed. We carry "blanks" (non printed table covers and skirting), spandex, portable trade show tables, even table leg risers to transform your table to demo height.
What Is A Custom Tablecloth?
Custom tablecloths are one of two products. A custom or unusual size table requires a custom tablecloth. We refer to these non printed linens as custom size tablecloths and have a program called A.C.T.S. to manufacture Any Custom Tablecloth Size. In the branding industry, a custom tablecloth is a custom printed tablecloth with a logo, image or message. In addition to branding, it gives a competitive edge with the professional look. In the trade show world, a custom tablecloth is also called a table throw, table cover or table drape. They are synonymous for printed tablecloths.
What Is The Difference and Pros and Cons Of A Printed Tablecloth vs Fitted Tablecloth?
A printed tablecloth is also referred to as a table throw. It is the same product. The "throw" is finished with rounded corners so the fabric will not puddle on the corners. A fitted tablecloth is fitted to the table with the top and all four side panels sewn together. It is available with inverted pleated corners or non pleated. For trade shows, sign in tables and other events where someone will be seated at the table, fitted tablecloths are manufactured with an open back so a staff member can be seated at the table. If storing under the table at trade shows or retail P.O.S., we are one of the few that will have your fitted tablecloth manufactured with slits hidden in the pleated corners on the back side so the entire panel can easily be lifted for easy access under the table for storage. A fitted table cover in our opinion is more elegant, however, a table throw gives much more flexibility in the event that it needs to be used on a different size table whereas a fitted tablecloth will only fit on the exact size table it was manufactured for.
Print Fabrics Available
Poly Premier
The basic polyester we use for printing and commonly used at trade shows. It is a good quality poly, 200 G.S.M. (Grams Per Square Meter), manufactured and printed in the United States. 60 fabric stock colors available. Fire retardant and meets N.F.P.A. testing standards. For more information on the importance of only using logo cloths that are fire retardant, see this informative article I.F.R. Regulations at trade shows.
Liquid Repellent
These table covers have the same quality and the same sizes and styles are offered as our Poly Premier, but with added treatment that repels water and any other liquids. Instead of spills saturating into the fabric, the spilled liquid gathers into small pools that are easily wiped off with a paper towel, cloth or sponge. Spills will not leave any residue on the table cover. These are ideal for demo tables where drinks will be sampled. View our short, informative liquid repellent video.
Deluxe and Supreme
Enhance your promotion with the finest quality printed linen fabric in the industry. Stand out from your competition with our superior quality Deluxe and Supreme logo printed table runners and table drapes. The Deluxe fabric is 25% heavier weight, excellent quality poly knit, and very wrinkle resistant. The Supreme is 50% heavier weight fabric than the standard trade show poly, top of the line, and practically wrinkle-free. For table runners, we offer the Deluxe fabric upgrade with rod pockets on the table runners. For table drapes, we offer full dye sublimation all over print in the Supreme fabric, and seamless for those wanting the very best. Both upgrade fabrics are also fire retardant.
Spandex
Another way to take your brand or promotion to another level is with our sleek, stylish, wrinkle-free spandex table covers, water drum, and garbage can covers. Form-fitting, snug, contour spandex table covers are sharp, stylish and logos really "pop". With our single color printed spandex table covers, you have 20 fabric colors to select from. All of our promotional spandex table covers have reinforced heavy duty canvas pockets to stand up to the wear and tear of the trade show industry.
Burlap
Ideal for organic and health food displays. Eco-friendly, promotional burlap tablecloths and table runnersare a great way to brand your image and show you are green. Our printed burlap fabric is 100% refined Jute, made in the U.S.A., and imported burlap, It contains no Formaldehyde or additives. 12 print colors available.
Print Methods and Linen Printing Options
We offer four print options. Depending on your logo, budget, fabric selection, imprint area needed and quantity, you can select from one of our four print methods.
Single Color
For all single color products, we use a vinyl heat transfer print process. The CAD (Computer Aided Design) tool process cuts the artwork design precisely in the single color selected. The vinyl is then applied to the fabric using a high-temperature press. If your logo has half-tones, distressed reliefs, or very fine lines, you will need to select the full-color digital print method in the next paragraph. The largest print area available for single color is 48" x 17". We offer 12 colors to choose one from. 74 fabric colors are available. This is the most economical way to print your logo or message. There are limitations, but with creativity and all our fabric colors, you will have a professional looking product that will showcase your brand at any promotional event.
Full Color
We use the latest full-color digital printing called 4-Dye sublimation which gives the most vibrant results. The dye sub print process requires 2 steps that fully infuses a full-color digital print of photographic quality into the fibers of the linen. The resulting high-resolution full-color print is permanently infused into the threads of the cloth and the cloth can be folded, washed, and used for many years. We use this latest technology on both front panel imprinted tablecloths, table skirts, stage skirts as well as our products where you have the entire fabric to print on; all over logo printed table runners, all over printed tablecloths including our seamless tablecloth line, drapes, backdrops, water drum covers, and garbage can covers with logos. It is also used for customers that only require printing to a certain PMS color without logo or message. See next paragraph.
PMS Color Printing Only
Does your business need tablecloths without a logo, simply in your branded corporate color? We've Got You Covered™. At a lower price than a logo imprinted tablecloth, we will print your linens in any PMS color. Any size linens or napkins in color. In this PMS color print program we have 1100 PMS coded colors listed. Simply select your size and color and we will print using the same dye sublimation application listed above. Do not find the size or color needed? Simply email or call us with your size and or color requirements and one of our print specialists will immediately handle your request.
Complete Customization
Unlike most promotional tablecloth companies, having been a trade show promoter myself and now in the printed linen industry for 10 years, I understand the need for custom options to fit your needs and applications. For this reason, not only do we offer fitted tablecloths with the option to be three sided so a staff member can sit at the table, but we also offer the option for hidden slits in the pleated corners our fitted tablecloths which is essential if you will need access under the table for storage. With the hidden slits you can easily lift the entire back panel for storage. We will accommodate any customization need requested. Recently a client attending a rally requested a 90" X 132" tablecloth which is manufactured with rounded corners (so it will not puddle on the floor in the corners when placed on a table) to be made with square corners and grommets so that they could hang it at a rally. Custom sizes or custom requests, simply let us know your needs.
Artwork Requirements, Submission
Artwork may be submitted in the following programs:
-Adobe Illustrator
-Adobe Photoshop
-Adobe InDesign
-Quark Express
-Adobe Acrobat - Must be saved as a High-Resolution Print Ready CMYK PDF
-JPEG, PNG and TIFF art files must be at actual size being printed and at the very least 150 dpi.
Artwork Details
-Have all fonts and text outlined in vector format or include a complete collection including all fonts used.
-Resolution for source images must be at least 150 dpi at full size (the size the image needs to be on the finished product), Mousepads and Counter Mats images must be at least 300 dpi at actual size.
-Identify PMS colors in the graphic in the art file.
-Include linked or embed files.
-Reverse Type at least 18pt serif or 12pt sans-serif - larger is recommended
Indicate size you wish printed. Otherwise our graphic designers will maximize and center your graphic on the product. The size of the imprint will be identified on the proof you will be sent for approval.
Need us to fix your art file or convert it to print ready Vector format?
This is called vector recreation or vector conversion. If you are not able to provide us with a good quality print-ready image, we offer vector service for only $29.95 with a 24 hour turn around or $39.95 for 2-hour Vector service. Our art department will not only vector your image or logo for you but will also upon completion of your image send you a zipped file with the following image types Ai, Jpeg, BMP, PNG, PDF, and SVG for you to have and use in the future for any type of web-based or print deployment needs you may ever have.
Need A Logo Designed?
Are you needing a custom printed tablecloth to brand your company but do not have a design yet? Perhaps you know exactly how you want it to look, you just did not have access to a graphic designer. Or you need suggestions to come up with a design? Either way, our graphic designers will be glad to design or come up with a design for you. The graphic design fee for this service is a bargain for $79.99 and includes 2 hours of work. This fee includes Email or phone consultation, an initial design creation, and up to 2 revisions. Few of our competitors have the knowledge required for this. We just noticed one that instead offers consumers links to very elementary create your own logo that anyone can complete. We know our consumers demand, expect, and deserve much more and we are glad to share our talented graphic designers with you to create the impressive logo you envisioned that only a professional graphic designer with the education and experience can create.
Will I See A Proof Before Going Into Production?
No orders go into production prior to approval from our client. The only exception is if it is an exact reprint and you specifically state on the order form no proof required. During regular business hours 8:30am to 6:30pm E.S.T. a proof for standard next day, 2-day or 3-day production will be sent within 60 to 90 minutes of our graphic designers receiving your order. For same day rush production, you will receive your proof within 15 to 30 minutes. Here is an example of what a proof looks like.
Can I See A proof Prior To Paying?
Absolutely, you can see a proof prior to making payment. Simply proceed to checkout and instead of making payment, select the quote option at checkout. Under notes indicate that you are wanting to see a proof before finalizing the purchase.
Production Time
We offer the fastest production time in the industry. For up to 12 units, 3 business days once your proof has been approved, if approved by 1:00pm E.S.T. On Specific Products we offer 2 days production, 1 day production and even Same Day production time.
Rush, Express and Same Day Production
For a small fee we can have your branded product manufactured in only 2 business days or the next business day. We are one of the few that can also provide same day imprinted tablecloth rush production on any of our printed tablecloths and printed table runners. The upcharge for same day production is 100% markup. We guarantee the same quality product and will put your order at the front of the line of that days production. Orders and print-ready art files must be submitted by 1pm. We can only accommodate 6 same day production orders per day so this service is on a first come, first serve basis.
Shipping
We ship UPS from New Jersey area and offer Ground, 3-Day Air, 2nd Day Air and Next Day Air, including Saturday deliveries if requested. These shipping rates and options are listed at checkout. Because of the large volume of shipping we do, we have excellent negotiated UPS rates. If you prefer for us to ship on your account, we will be glad to do so. We also offer UPS Express Critical same day service. Call for same day air pricing. It is not as expensive as you might think. Recently we had a client order same day production and shipped to Washington D.C. for 7 pm delivery that evening. The UPS charge was $425 delivered to the business or $375 picked up at the airport. We also offer same day courier service delivery to Manhattan which runs around $150.
On Time Production Guarantee
We guarantee we will fulfill the production time schedule you have selected. If we do not meet the production time, the promotional printed products you purchased are yours free and you will be refunded in full. Production time begins once you have approved the proof. If you approve the proof by 1pm, production time begins that day. If the proof is not approved until after 1pm, the production time begins the following business day.
No Hidden Charges
With Premier Table Linens there are no hidden charges or additional cost. No set-up fees, no proof charges, no hidden charges ever!


We are celebrating our 10th year manufacturing printed linens. We are A+ rated by the Better Business Bureau and an ASI member. Before I began Premier Table Linens 10 years ago I was a trade show promoter for 5 years. We have a wonderful, full time staff member working at our company. We are not one of those printed linen businesses run out of someones home that come and go. Our meticulous attention to detail and exceptional quality printing process allow us to meet and exceed customer expectations on every order. We will never let your brand down.
We offer an unconditional 110% best price match guarantee. That is how certain we are that we have the best prices in the U.S.
Linen Rentals Department | FAQ's
Ordering Process
Swatch cards
We highly recomend ordering swatch cards if you have a color specific requirement for your rental, although we do our best to represent the colors as best we can, the colors shown on a monitor or mobile device do not give a true color match. If you need to order swatch cards follow the link on the navigation menu titled Fabric swatches and you will be re-directed to our Premier Table Linens website where you can order swatch cards. We only charge $1.95 to cover the postage for each card.
How do I know what size linens I need?
In order to best serve our customers we have created a tablecloth sizing calculator that will assist you in sizing your table linens click here to visit our tablecloth calculator page.
How do I contact Premier Table Linens?
You may contact us by phone, email, chat or online six days a week. Our knowledgeable customer service team is available weekdays from 8.30am EST till 6.30pm at 800-937-1159.
How do I place an order?
Ordering from Premier Table Linens is easy. You may order online with our simple checkout process, by chat, email or fax at any time; or directly with a Premier rental representative.
What if I need to change my order?
Additions to an order may be made at any time, but additional charges may apply if expedited shipping is required. Reductions or cancellations must be made before the deadline date and time on your contract.
What is your cancellation policy?
Cancellations may be made before the deadline date listed on your contract.
Is there a minimum order?
Our rental program requires a minimum order of $100.00
Pricing Information
What are your shipping costs?
Shipping charges vary by location, weight and type of service. We normally ship via ground service with UPS, but can use expedited service or alternative carriers if necessary to meet the required receipt date.
Delivery Process
When can I expect to receive my order?
Your order will arrive on or before the receipt date listed on your agreement.
How will my order be delivered to me?
Most orders will arrive via UPS ground service. Please make sure your Ship To location can accept deliveries.
Return Process
How does the return process work?
It is your responsibility to contact UPS to arrange for pickup of all rental linen. Premier Table Linens will provide pre-paid return labels, in the box in which your order is shipped to you. Make sure to have the linen counted, packaged, and sent back using the enclosed prepaid UPS return label on the first business day following your event. The packaged linen can either be delivered to the nearest UPS office, or you can call 1-800-823-7459 to schedule a pick up.
How do I pack my order for return?
Linen is simply placed in the boxes sent with your order. Just be sure it is free of food, floral, or miscellaneous debris.
How do I handle damp or wet linens after an event?
Please return them to Premier Table Linens immediately. Make sure linen is returned free of any food, floral or other miscellaneous debris.
What do I do if I have lost my UPS return label?
If your labels do not arrive with your order, or if you misplace them you must call us at 800 937 1159 Ex1 for replacement labels, there is a $10.00 charge for replacement labels if they are lost or misplaced. If we did not supply them we will replace them free of charge.
What happens if my order is not returned on time?
You may be subject to a late return charge. If there are any delays in returning orders, you must contact the Return Service Department directly at 1-800-937-1159
May I combine different orders in the same return package?
We prefer to have orders returned to us using the prepaid return label issued to a specific contract.
Lost & Damaged Policies
What happens if something has been lost or damaged?
Upon return, all products are counted and inspected by Premier Table Linens using state-of-the-art electronic systems. You will be charged the replacement cost of all missing items or ones returned in damaged condition. You will not be charged for stains that occur under normal usage. However, you will be charged if stains occur from improper usage such as using linen to mop floors. Before packing tablecloths for return, make sure to remove any food, floral or other miscellaneous debris.