74 Colors Machine Washable Polyester Tablecloths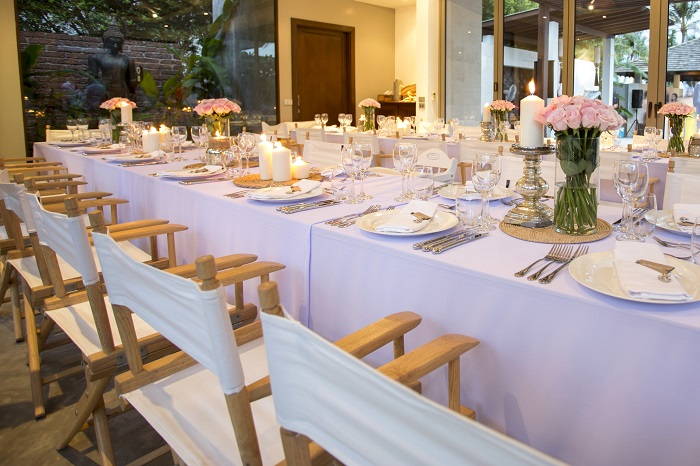 Premier Table Linens your online tablecloth retailer highly recommends the use of our Polyester Premier Tablecloths when vibrancy, color and regular users of the tablecloth are what you're looking for. Poly Premier Tablecloths and overlays are available in 74 vibrant colors, everything from Ivory to Chocolate and from Pink Balloon to Periwinkle. These high-quality table linens which are manufactured in the U.S.A and are Fire Resistant are ideal for use at home, the Hospitality industry, weddings, parties, conventions and any special event. With such a great color selection you can create some striking design colors for your kitchen table, in fact adding a splash of vibrant color to your kitchen linens might be just the thing your kitchen is needing to liven it up.
We offer Polyester tablecloths in every available common sizing for round, square, rectangle and oval to ensure that we can cover any table for you. When it comes to sizing your tablecloth for your table we understand that sometimes customers have special tablecloth sizing requirements, in order to accommodate these situations we will custom size any tablecloth for you.
Are you looking to create a color-coordinated presentation or party, why not take a look at our Matching Poly Premier Table runners, napkins, chair covers, sashes and table skirts.
Polyester Tablecloths for, weddings, hotels, caterers and individuals
• 100% Woven Polyester Tablecloth.
• Passes the NFPA 701-2010 Test #1 for flame resistance.
• The Work Horse of the linen industry.
• Heavy weight tablecloths.
• All our Polyester is stain release fabric.
• Tablecloths finished with Merrowed edges.
• Excellent color retention.
• Wrinkle resistant Polyester, Low lint.
• No Seams on any Poly Premier Tablecloths. Fabric is 132" Ultra Wide.
• 74 Beautiful colors, in stock in large quantities and ship immediately.
• Click to view our Poly Premier Color Swatch
• Complete line, matching table skirts, overlays, runners, chair covers and sashes.
• Best priced tablecloths anywhere, both retail and wholesale, guaranteed.
• Easy care - Wash cool cycle, Tumble dry low. Remove promptly.
Product sizes are tablecloth size, not table sizes. Product pictures are for color representation only. Pictures / Images do not indicate drop of tablecloth as this will vary dependable on your kitchen or dining table sizing. If you are unsure of sizing click here for our tablecloth calculator to confirm your needed size of tablecloth for your table configuration.
100% Polyester tablecloths from Premier Table Linens. Poly Premier "the workhorse" of the linen industry. Caterers, restaurants, hotels are some of our regular purchasers of our Polyester tablecloths. When deciding on your table linens for your event or party Polyester Premier has a beautiful range of vibrant and expressive colors that can be used for literally any occasion. Our tablecloths are also machine washable and stain resistant. Color retention on our tablecloths is excellent our poly premier covers can be laundered and laundered without any shrinkage or color fade.
At Premier Table Linens we take great care and pride with every tablecloth that we manufacture, ship and sell. You will find all of our most commonly sized and sold tablecloths. In all of our tablecloth categories, you will find that we list our products by round tablecloths, followed by the square tablecloths then followed by rectangular and finally oval tablecloths. If you do not see the size tablecloth you are needing or the shape you are needing please contact our sales department at 800 937 1159 or click on the live chat button during open hours and a member of our team will be more than pleased to help you with your linen inquiry.
Washing Polyester Tablecloths
Poly Premier tablecloths are so easy to clean after your event or dinner party take your tablecloths and shake off any excess debris, collect them up and head to the washing machine, following our directions for washing your tablecloth below will see your linens nice and clean and ready for your next dinner party or catering event.
Premier Table linens Polyester tablecloths can be washed in a standard washing machine in cold water with regular detergent. Luckily, polyester is engineered to hold colors better than many other materials, so you won't need to worry about fading for a long, long time if you follow these tips. For white polyester tablecloths, a small amount of bleach may be used when necessary. Take care not to overfill the washing machine to ensure the entire tablecloth gets cleaned.
To dry, use low heat (180 degrees F or cooler) on the permanent press setting. You may also want to include a small damp cloth to help avoid most wrinkles. You may also want to try drying tablecloths individually (the dryer cycle tends to be shorter than the wash cycle, this shouldn't add a significant amount of time to your process).
Wrinkles might happen, but polyester is specifically used for its stain- and wrinkle-resistant qualities. That doesn't mean they're stain- or wrinkle-proof — simply that the material minimizes the effects of both. If wrinkles do occur, you can use a steam cleaner or iron on low heat (no hotter than 290 degrees F) to smooth them out before folding them for storage. By using the permanent press dry setting and immediately removing them from the dryer when the cycle is complete, you should be able to avoid most wrinkle-causing scenarios.
How to wash and care for your Polyester tablecloth.
- Wrinkle & stain resistant *not wrinkle or stain proof*.
- Colors will not fade, even after multiple washes.
- Do not wash together with other fabrics.
- The temperature of ironing should be no higher than 290F (degrees Fahrenheit).
- We do not recommend drying these tablecloths in Laundromat dryers, they are simply too hot.
- Drying Temperatures in excess of 180F can shock the cloth and create permanent wrinkles.
- Caution: if you do use a mix of cotton and polyester tablecloths, do not wash them together.
"How to" Remove stains from Polyester linens and tablecloths
1. Moisten the area of fabric with the stain.
Your first steps should be to apply some warm water to the affected and stained area, providing your stained area is still fresh and has not dried or set. If your stain has dried, then you will need something to lift the stain WD40 is magic for this application. If your stain is dry spray with WD40 and then apply warm water.
2. Application of dish soap.
A degreasing dish soap "Dawn" in our experience has worked best for us, but make sure it is a nonbleach based detergent. A bleach based detergent may well bleach out your Polyester.
3. Scrub the stain.
Scrubbing the stain will help agitate the locked in nature of the staining, you can use a small brush, something with stiff bristles like an old toothbrush will work or a small nail cleaning brush.
4. Wash your tablecloth.
Now you have prepared your linen for cleaning by taking the above measures to remove the offending stain you can launder your tablecloth as you normally would. We would suggest air drying the tablecloth so you can see if the stain has been fully removed. If you still see some staining repeat the above steps as needed.