Spandex Contour Tablecloths & Stretch Fit Table Covers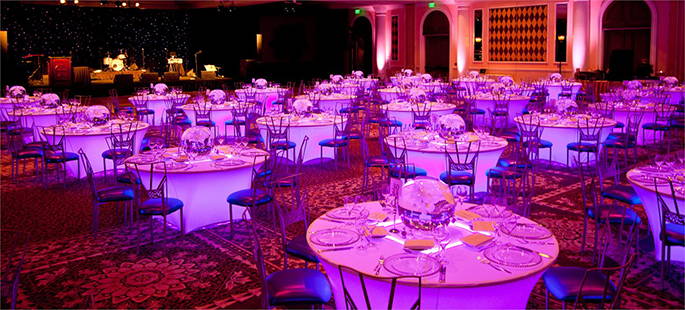 Transform every aspect of your event from the table to the chairs with our selection of Spandex elastic table covers and spandex chair covers. Each is ideal for a variety of events, banquets, the hospitality industry, and conventions. We even now offer wholesale spandex purchase options. Spandex table covers brings a new added flair to your displays at trade shows, or your corporate event. They can also be used for any occasion. With the flexibility of the spandex fabric you never have to worry about wrinkles, which also means you save time ironing! See more information and a video demo of our spandex covers and spandex table toppers. We also have a demo video of our spandex chair covers and sashes.
These beautiful spandex fitted covers are an easy and affordable way to give your display tables a fresh and attractive new look, also presenting a fantastic marketing opportunity to promote your brand as we also offer custom printed spandex table covers. In addition, with Spandex table covers grip firmly to your table, these custom-fit table covers are also ideal to use as outdoor tablecloths since they won't blow away in the wind.
Spandex tablecloths, Spandex elastic table covers, and Spandex chair covers transforms any table or chair into a beautiful eye catching, smooth, wrinkle-free look. Ideal for events, banquets, hospitality industry and conventions. Spandex Tablecloths bring a new added flair to your display's at trade shows, or your corporate event. Covers can be used for any occasion. With the flexibility of the spandex fabric you never have to worry about wrinkles, Spandex table cloths and Spandex table toppers are wrinkle free!
Spandex Table Covers Specifications
Material: Stretch Spandex
Product Grade: Premium
Material Blend: 90% Polyester 10% Spandex
Stretch: 4 Way Stretch Spandex
Fabric Weight: 210 GSM
Leg Holders: Polypropylene Reinforced Foot Pockets
Manufacturer: In Stock or 24 Hr Production USA Made
• Spandex is always Wrinkle free.
• Heavy weight Spandex fitted tablecloths, with reinforced Poly Polypropylene rubber sleeves to go in the legs and not tear.
• Very durable; Unlike the cheap Spandex/Poly blend linens that are imported and not at all durable, ours is made in the U.S.A. with an exceptionally durable Spandex/Polyester blend.
• Spandex Table Covers are Easy care - Cold water wash, tumble dry, no pressing or ironing required.
• An Elastic Spandex table topper and or a light under the table will completely transform your display.
• Spandex Table Covers available in 17 Colors. All but the ivory and racing are now in stock in large quantities and ready to ship.
• Premier caters to B2B both retail and wholesale.
• Fast production on large volume orders, call for pricing and production schedules no quantity limit we cater to all.