Bombay Pintuck Tablecloths
Pintuck ideal for any Table Setting Party or Wedding.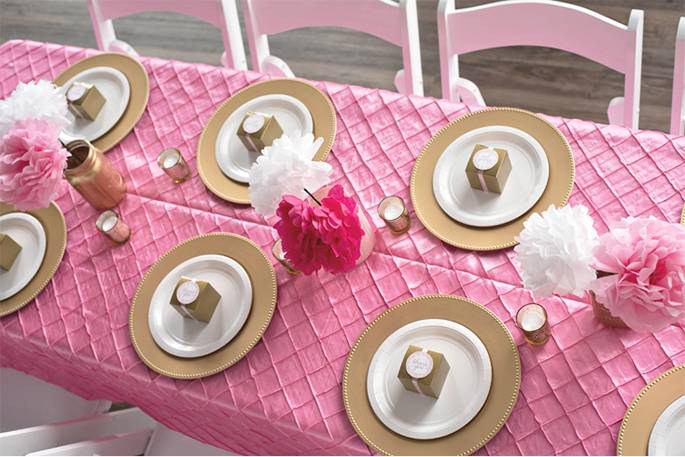 Add elegance and class to your next event. The iridescent pintuck taffeta tablecloths, with the delicate pintucks, create a unique table linen and overlay! Our chic pintuck linens are high-quality taffeta fabric, 55% woven poly/45% nylon linens with exuberant 3" diamond stitching. Available in 23 vibrant colors. The contemporary diamond design is ideal for all occasions and extremely popular for wedding receptions, bar mitzvah, special events, parties, and graduations. In this pintuck tablecloth category, we have the most commonly requested sizes listed for tablecloths or overlays. Once you click on any product, you will see the wholesale volume tier discount pricing. If you do not see the pintuck tablecloths or overlay size needed below, please contact us. We are the leading manufacturer of these linens and can custom create any size needed.
• Exuberant 3" diamond stitched pattern.
• Divine, stylish tablecloth, 23 colors.
• Click to view our Pintuck Color Swatch
• 55% Woven Polyester/ 45% Nylon.
• Seamless up to 110". Made in the U.S.A.
• Stain release fabric, wrinkle resistant.
• Easy care - machine wash, dry on low heat.
• Complete line, matching overlays, runners, chair covers, and sashes in this very elegant, festive tablecloth.
• Best prices anywhere, both retail and wholesale.
As a wedding linen specialist, we are honored and thrilled to have won Couple's Choice Award, only presented to the top 5% professionals in the wedding industry for the 6th year in a row in 2018.
TABLE LINENS NEVER HAVE TO BE BORING AGAIN!
Pintuck Table Linens are beautiful and stylish — not your everyday run of the mill table linens. Pintuck Linens are suitable for indoor or outdoor use. While many other companies require a week lead time to order this pattern of table linens, Premier Table Linens manufactures in 24 hours, 48 to 72 hours for large orders over 100 table linens..

PINTUCK FEATURES A BEAUTIFUL CASCADING, LUSTROUS DIAMOND FABRIC
Wanting something new and exciting on your holiday or next special event table? This Pintuck fabric is an exuberant diamond-stitched, pintuck taffeta design that quickly livens up any table setting or occasion. The iridescent quality of this fabric along with delicate pintucks create a unique fabric like no other! Just check out the full-length drape on this photo below!
Read more about our Pintuck tablecloths here, Lori Hall reviews the pintuck for weddings parties and other social gatherings.