Crinkle Taffeta Tablecloths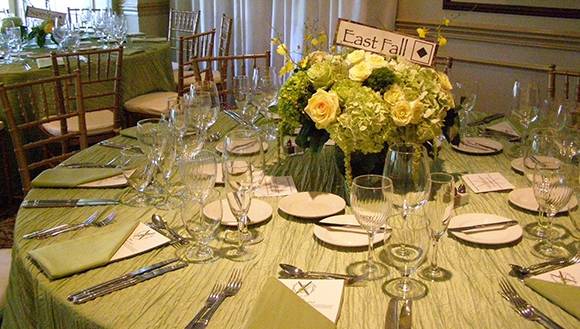 There's just something about taffeta. Even with it's wrinkled appearance, it adds a certain elegance to a table, and a shimmer that is otherwise lacking. We have crinkle taffeta tablecloths, overlays, table runners, chair covers and sashes available for your next event. By popular demand, we now carry the top of the line crinkle taffeta Delano, one of our personal favorites. Our crinkle taffeta is available in 22 beautiful colors including the very popular fuchsia, watermelon, apple and turquoise. This is a very popular fabric this year for weddings, special occasions or for an exceptional dining room table linen. The best part of our crinkle taffeta tablecloths is that they are reusable, allowing you to use them for a variety of events, and have this beautiful linen in your arsenal.
• Top of the line Delano fabric.
• Proudly made in the U.S.A.
• 50%Polyester / 50% Nylon
• Easy care - warm wash, tumble dry low heat.
• Because of nature of this fabric, no ironing is required!
• 50" Wide fabric. If your tablecloth is wider than 50" there will be seams, which in this fabric, because of the texture, it is not an issue.
• Available in 22 beautiful colors. All ready to ship within 24 hours.
Product sizes are tablecloth size, not table sizes. Product pictures are for color representation only. Pictures / Images do not indicate drop of tablecloth as this will vary dependable on your your table sizing. If you are unsure of sizing click here for our tablecloth calculator to confirm your needed size of tablecloth for your table configuration.