Miranda Damask Tablecloths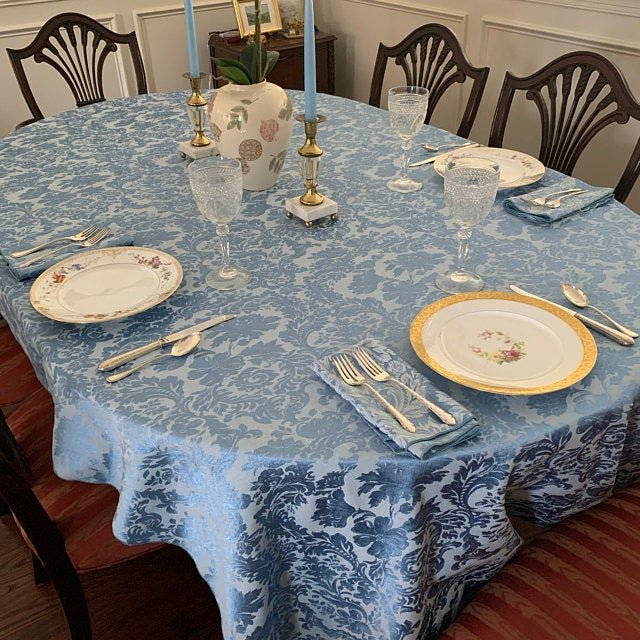 There are certain tablecloth fabrics that just work for events, family dinners, and home staging. Our Miranda Damask tablecloths and table covers are one of those that work for a variety of events, including just having the whole family together. Our Miranda Damask fabric has a two-tone, regal pattern woven within the cloth itself, so while you may not be dining at the Palace, you can feel like it. We have 10 beautiful color options and offer a variety of shapes and sizes in our Miranda Damask linens. Everything can be matched up precisely or you can mix and match different colors to create a full color palette for the upcoming event.
• Miranda Damask Tablecloths and Table Covers. Miranda has a two tone, regal pattern woven within the cloth itself.
• 50% Polyester 50% Cotton.
• Soft, durable, very elegant.
• Heavy-weight tablecloth.
• Stain release fabric.
• Merrowed edges.
• Excellent color retention.
• Up to 72" are seamless.
• Easy care
• Low lint.
• A favorite among upscale party rentals, resorts, elegant banquet halls.
• 10 two-toned color patterns, in stock in large quantities and ship immediately.
• Complete line matching table skirts, overlays, runners, chair covers and sashes also available in this very elegant line.
• Best prices anywhere, both retail and wholesale, guaranteed.
All of the Miranda Damask tablecloths and linens we offer are the highest quality, sure to last you for years. Whether you are a professional event planner in need for an upcoming event, or you are planning ahead for the holiday dinners, we have you covered. We offer retail and wholesale prices, so you can get the amount you need, at a price you love.