18 Colors Velvet Tablecloths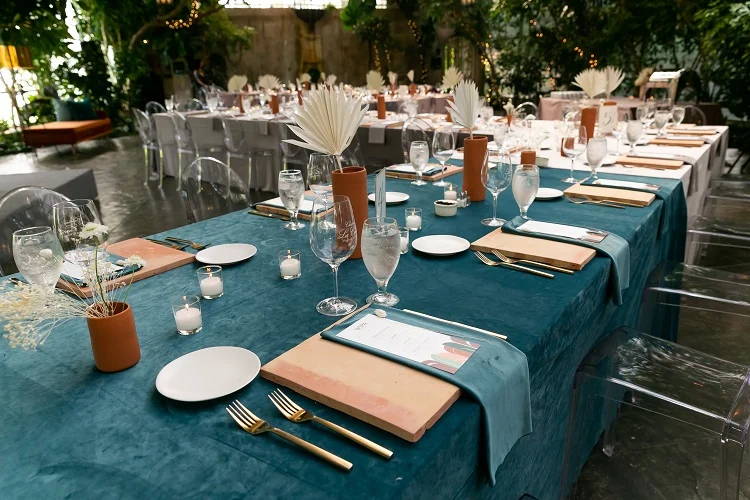 Certain materials offer an excellence in quality and appearance that make them the perfect option for a variety of tablecloths and table linens. Our ultra-soft velvet tablecloths and overlays are the perfect addition to your tablescape, especially for the holiday season. These are proudly made in the USA of commercial grade velvet, ensuring they are an excellent quality and durable to last many family gatherings or holiday events. Velvet overlays elegantly complement your solid-colored linens for a stunning table that no one will want to disturb. These are also known as table toppers, and can add striking sophistication to your tables, whether you are dressing up linens or trying to create a juxtaposition of colors. While they may seem like a small piece of an event, the linens that you choose for your event, whether it be a family gathering, wedding, birthday party, baby shower or any other event, helps to set the tone for the entire atmosphere. Our velvet tablecloths will ensure that you are choosing something that is elegant, sophisticated, and eye-catching.
Our exclusive velvet overlay, linens, and table runners are an affordable way to introduce your event theme colors for a plush and dream-like feel. We have 18 beautiful colors to choose from, so you are sure to find the perfect fit for your upcoming event. For the holidays, red velvet is traditional, while a maroon velvet is elegant and perfect for a winter wedding. For all of your other needs, we also have tree skirts, velvet napkins, and even velvet table runners to add the perfect touch to a table overflowing with florals and beautiful dishes to make an event just perfect. Our velvet table runners are usually 13" wide, however, with such a rich fabric, many customers prefer an extra wide size to create a dramatic ruffle effect. For this reason, we also offer 20" and 39" wide runners in all lengths. These drape and gather dramatically on the floor at the end of the table for a stunning tablescape fit from a magazine. With rich dark colors, you're sure to find exactly what you're looking for.
All of our velvet table linens are easy to care for, you simply put them in the washing machine for a cool wash, and dry on low heat. Ironing is not usually necessary, but if you choose to do so, make sure to iron the back of the cloth only.
If you have any questions about our velvet tablecloths or linens, please feel free to reach out. We also offer custom sizing available, so you never have to worry about finding the perfect fit for your tables.