Somerset Damask Tablecloths
Damask Somerset Tablecloths 6 Colors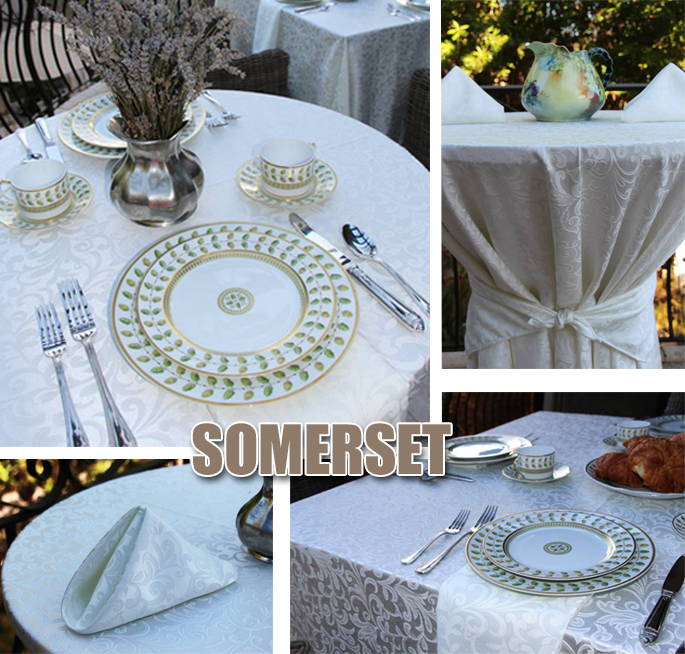 Are you looking to add a touch of elegance to your event with a beautiful tablescape? Our Somerset Damask tablecloths with Damask floral pattern of swirling leaves are elegant, beautiful, and available in a variety of colors. Our material is made of 100% premium woven polyester. We use our trade-secret for applying patterns to polyester, it softens the fabric without compromising its structural integrity. The fabric is 72" wide. Any larger size linens will have side seams. Our Sunset Damask tablecloths are available in six beautiful colors, all always in stock. The most common sizes are listed below but we can make any size needed. Orders ship within 24 hours. Over 50 pieces require a 48 to 72 hour production. This is our 10th year in business serving the hospitality and wedding industries, corporations and residents as well. For those purchasing in large quantities, in addition to our low prices, we offer volume discount pricing. Simply click on the product to view wholesale, quantity tablecloth pricing. We are so certain we have the best prices in the industry we have a 110% Best Price Match Guarantee.
• 100% Polyester.
• Durable, very elegant.
• Heavy weight tablecloth.
• Stain release fabric.
• Merrowed edges.
• Excellent color retention.
• Up to 72" are seamless.
• Easy care
• Low lint.
• 6 traditional color patterns, in stock in large quantities and ship immediately.
• Complete line, matching table skirts, overlays, runners, chair covers and sashes also available in this very elegant line.
• Best Damask table linen prices anywhere, both retail and wholesale, guaranteed.
• Looking for Fitted Tablecloths in our Damask Fabrics? We have it available also