Table Toppers With Elastic
Slips Right Over Your Table Top Transforms The Look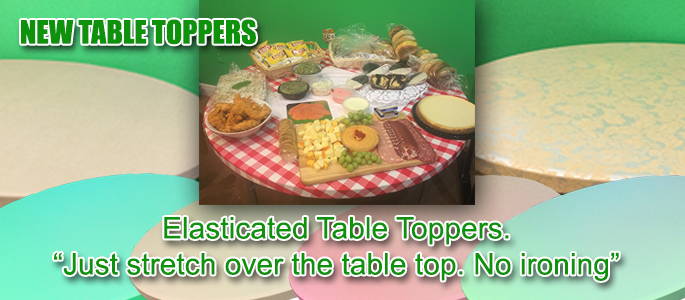 Tablecloths With Elasticated Border For Snug Fit
Premier Table Linens new elasticated table toppers fit the top of the table and the elastic easily pulls down to under the lip of the table. With the elastic, the table toppers cover the top and secured under the lip. The drape takes the shape as if it were custom-made for it. Available in 15 linen fabric in 100's of solid colors as well as our beautiful Damask patterns. Our Damask line gives you five exciting and traditional patterns to choose from. Also bringing in some much-needed contrast to your event consider our checkered patterns, Bombay Pintuck and Poly Stripes are always a favorite.
Manufactured from our same high-end linens and proudly manufactured in the United States.
Taking Care of Your Table Topper
All of our caps are machine washable so you can keep them looking like new for years to come. Each product has washing instructions on the product description. If you are unsure of anything just give us a call we would be pleased to help.
Make your selection from the menu bar on the left to view the elasticated table toppers in your preferred fabric.
Watch our video below to see our contour fit table covers and toppers being demonstrated.
Tablecloths and Toppers with elasticated edges in 15 Fabrics
When choosing your elasticated tablecloth ensure you look through the 15 fabric selections we have available for you. We have selected our 15 most popular fabrics and offer you these table covers in Round, Square, Rectangle so you can cover any table snugly with your favored fabric. Choose from the following very popular easy wash easy care fabric lines.
• 1. Polyester Premier 74 vibrant tablecloth colors.

• 2. Spun Polyester smooth to touch feels like a cotton blend - 26 Colors
• 3. Poly Cotton Twill - with 20 colors to choose.
• 4. Havana Faux Burlap - washable Faux Burlap in 15 colors.
• 5. Crinkle Taffeta unique look available in 26 colors.
• 6. Saxony Damask your choice of 6 colors.
• 7. Melrose Damask your choice of 6 colors.
• 8. Somerset Damask your choice of 6 colors.
• 9. Kenya Damask your choice of 8 colors.
• 10. Miranda Damask available in 10 color options.
• 11. Bombay Pintuck very popular and available in 23 colors.
• 12. Duchess Fabric available in 23 colors.
• 13. Premier Majestic striking fabric in 39 colors
• 14. Polyester Check "Gingham" 7 color options for this classic fabric.
• 15. Polyester Stripe striped fabric in 33 options for color.
Elasticated tablecloths and toppers as they are also known are always available from Premier Table Linens, we will manufacture to order and ship the very same day if ordered by 2pm EST. Check each product for your best tier discount price when buying tablecloths in bulk.