Table Skirting and Stage Skirts
Get the perfect table skirt on time and under budget
Premier Table Linens carries a large assortment of table skirts for every budget and occasion. Please visit each table skirt sub-category to learn more about each style we offer and colors available. In each product listing are our retail prices as well as our discounted wholesale pricing tier based on volume.
All table skirts are the standard 29" in height and available in 14', 17' and 21' lengths. A 14' skirt will cover three sides of a 6' or 8' banquet table and completely skirts a 48" round table. A 17' table skirt will completely encircle a 6" banquet table or 60" or 66" round table. 21" Completely covers an 8' banquet table. Customers needing stage, bar, DJ booth skirting or any other custom skirts should go to custom sized table skirts.
All our table skirts have Velcro® sewn into the entire back so they can easily be attached to the tables with the Velcro® clips. In the Velcro table skirt clips category you will find the Velcro® table skirt clips and learn how to determine which size clip to order.
In our table topper category are the matching table toppers made of the very same fabric as the table skirts.
Whether you are an individual shopping for only a few table skirting items, a bride, caterer, restaurant, hotel, resort, party rental or a large convention center or business needing a very large order, you won't find better quality, prices and service anywhere else! See for yourself.
So many table skirts, which is right for you? After reading the product descriptions and viewing pictures of our different options, if you're still unsure which table skirt is right for you, visit our FAQ page. No order is too small or too large.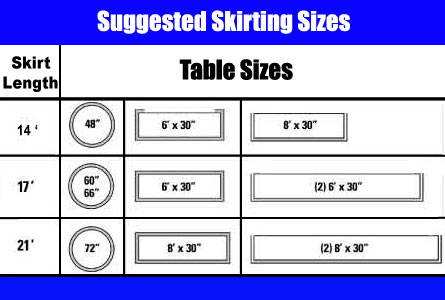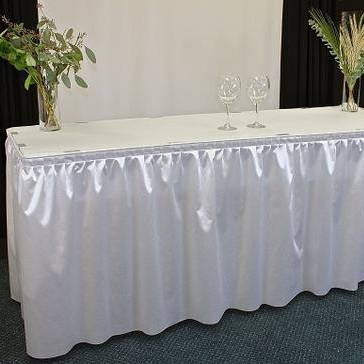 How to choose the right table skirt and clips
Our video below will walk you through the process of selecting the proper size and style of table skirting for your tables and show you which table clips to order as well.