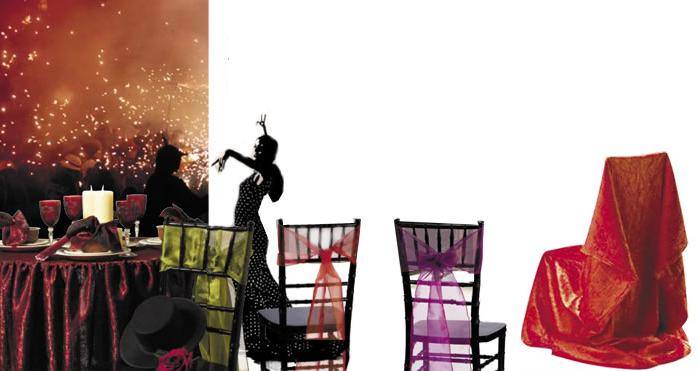 Never underestimate the elegance a little bit of shimmer can add to an event. Shalimar overlays and linens have a crinkled shimmer effect. Our Shalimar linens are perfect for celebrating a variety of festive occasions, including holidays, weddings, galas, and more. This high luster satin fabric comes in 16 festive colors, so you're sure to find something to match your event's theme.
We offer a large variety of sizes, including rectangular and round Shalimar overlays and tablecloths, ensuring that we have just the thing for your upcoming event. Our tablecloths can be used in two ways. Arrange them on top of a polyester tablecloth for just a dash of shimmer and color, or use on their own as the main tablescape to really make a statement. Or use as an accent piece on the back of a chair for that perfect final touch.
Trendy, glitzy fabric ideal for tablecloths, stunning overlays, and sashes.
• A spectacular iridescent crinkled satin.
• 75% Rayon / 25% Polyester.
• Durable.
• Soil release fabric.
• Excellent color retention.
• Available in retail and wholesale pricing.
• Cold water wash.
• Use mild detergent only. Avoid high alkaline level.
• No bleach, unless necessary for whites.
• Tumble dry, cool temperature
• Do not iron.
• Proudly made in the USA.
Product sizes are tablecloth size, not table sizes. Product pictures are for color representation only. Pictures / Images do not indicate drop of tablecloth as this will vary dependable on your your table sizing. If you are unsure of sizing click here for our tablecloth calculator to confirm your needed size of tablecloth for your table configuration.