Custom Printed Table Skirt
Logo Printed Table Skirting With Box & Shirred Pleats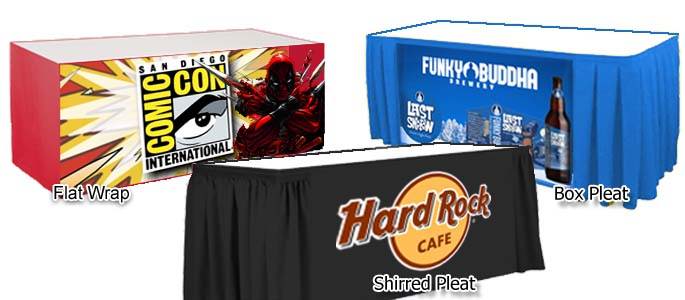 Our digitally printed table skirts are available in three styles; shirred pleated (gathered), flat wrap, and box pleated. The shirred pleated and box pleated styles have a large flat-panel centered front section that will make your crisp, eye-catching custom printed skirt with logo stand out at any event. In fact, the entire front panel is available for printing so we can print your logo, slogan or other custom graphics that complement your brand. The third custom printed table skirt option is becoming the most popular and called the flat wrap or table wrap which actually has no pleating. Getting your brand's logo printed on a table skirt is the perfect finishing touch to any display no matter where you're presenting. Trade shows and conventions are no-brainers, but this custom printed skirting is also perfect for schools, job fairs, fundraisers, retail stores, caterers, and sports teams as they are reusable and will help establish your brand, regardless of the size of your organization. All three of these printed table skirts are made of woven poly poplin polyester and are certified fire resistant.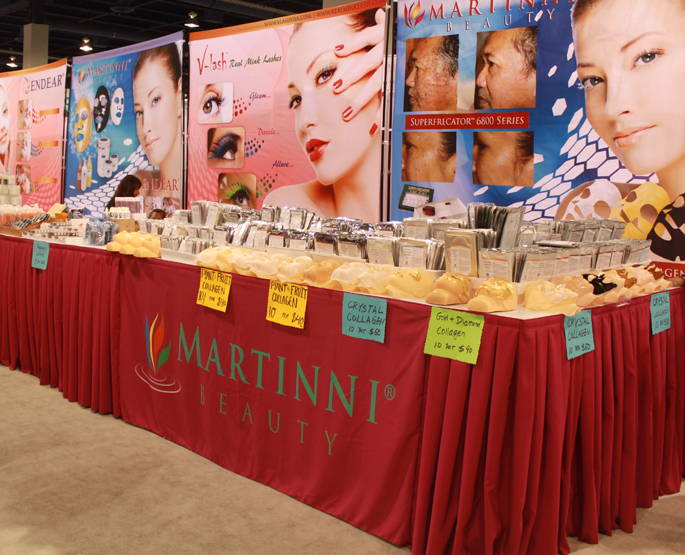 Custom Printed Box Pleat Table skirting for Martinni Beauty
We have listed the most common sizes below. Custom printed table skirts are available in any custom size. For any other size contact us via phone (800) 937-1159 from 8:30 AM - 5:30 PM EST, Live Chat or email to speak to our digital printed table cloth and table skirting experts. If you need help with logo design, we offer that service for a great price, and will be happy to help you with the process.
All images used to display tablecloths are not accurate color to the fabric. If color match is important then we recommend purchasing a color swatch for matching your color. Every monitor displays color differently and for this reason we do not guarantee, or claim that any color listed for the fabric is an exact match to the actual color.