Poly Checkered Tablecloths
Red and White Checkered Tablecloths, Not Just For Picnic Time!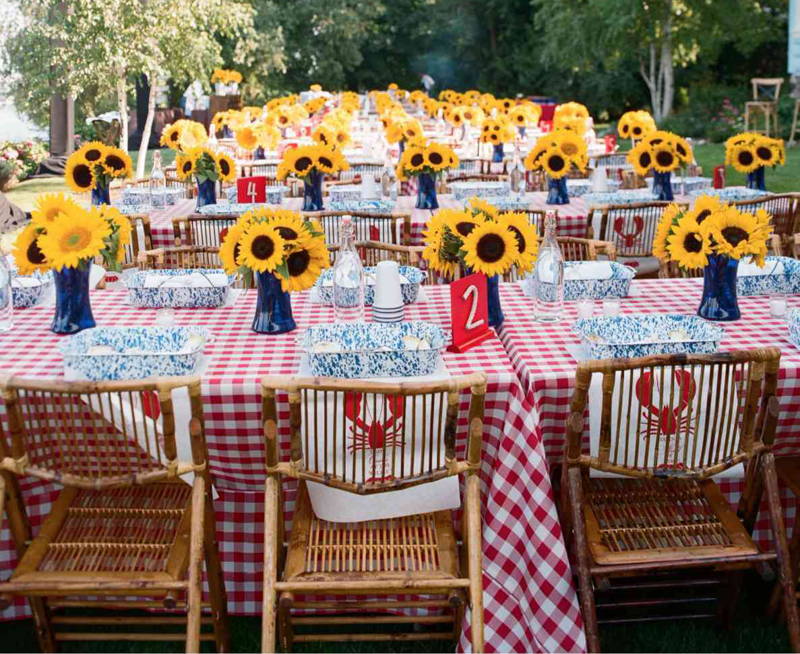 Gingham Checkered Tablecloths in 10 colors
Bring in the feelings of summer with a beautiful red and white checkered tablecloth, with your picnic basket, a gorgeous setting, friends family and traditional checkered tablecloths. Dependable upon your heritage you may refer to the timeless style of checkered tablecloths as either "gingham" or "polyester check" Our European counterparts use the term gingham to describe the square shaped pattern of the red and white or black and white checkered tablecloths.
Description of the European term Gingham: Originating from the early 17th century and derived from the Dutch "gingang" and from Malay Genggang (originally from the adjective meaning striped.) lightweight plain-woven cotton tablecloth, typically checked in white and a bold color. "Gingham table linens" the textile definition of gingham fabric is a cotton fabric, usually woven of two coloured yarns in a checked or striped design.
Checkered Tablecloth Color Options
At home in the USA we tend to refer to Gingham as either Polyester Check, Picnic, or simply checkered tablecloths. Premier Table Linens offers a full 7 color line-up for you including :
• Red and White
• Royal and White
• Moss and White
• Lemon and White
• Teal and White
• Burgundy and White
• Black and White


Add a touch of charm to your dining experience with a checkered tablecloth from Premier Table Linens! Whether you call this linen plaid tablecloth, gingham tablecloth or checkered tablecloth, this classic design tugs at our sense of Americana and nostalgia for all things family! We LOVE this fabric. The timeless design adds polish and sophistication to any table setting, making them suitable for casual family dinners, picnics, or even formal events. Checkered tablecloths are also extremely popular for outside dining and catering during the summer months when weddings and parties are abundant. These versatile and stylish tablecloths effortlessly combine classic charm with modern practicality, making them a perfect choice for any occasion!


Our checkered tablecloths are crafted from high-quality 100% woven polyester fabric, making them extremely durable and easy care. Designed to withstand frequent use and washing, they are an ideal option for both indoor and outdoor events. The fabric is resistant to stains and wrinkles, ensuring a pristine appearance that will impress your guests. Because they are designed with your convenience in mind, our checkered tablecloths are easy to care for. They are machine-washable and can be tumble-dried using low heat, saving you time and effort. The fabric's low-maintenance nature means that you can enjoy a beautiful and flawless tablecloth without the hassle of ironing or extensive upkeep.


Available in a variety of checkered patterns and sizes, including any custom tablecloth size needed. Choose from a wide range of color combo options, including red and white, royal and white, moss and white, lemon and white, teal and white, burgundy and white, or black and white. Whether you prefer a traditional black and white checkered pattern or a vibrant color scheme to complement your theme, we have the perfect options to suit your preferences!
With their impressive versatility, our checkered tablecloths fit a wide range of table shapes and sizes. Whether you have a round, rectangular, square, or even oval-shaped table, the available sizes and elasticized corners ensure a snug and secure fit, preventing any unwanted shifting or slipping. Custom sizing is also available on all of our checkered linens. We even offer a checkered tablecloth with an umbrella hole, which is especially helpful for restaurants with outdoor dining, picnics, lawn parties, or weddings.


Experience the perfect blend of classic charm and modern practicality with a plaid tablecloth from Premier Table Linens! Elevating your dining experience and creating a warm and inviting atmosphere has never been easier with these stylish and durable tablecloths. Shop our collection today and enjoy the timeless elegance they bring to your table!
Poly Check Fabric Specifications
• 100% Woven Polyester.
• Does not wrinkle like cotton blends.
• Stain release fabric.
• Heavy-weight tablecloth fabric.
• Durable and picnic table ready.
• Easy care - machine wash, dry low heat.
• We take great pride in the quality and workmanship of our tablecloth.
• Fabric width is 72 " Tablecloths over 72" will have side seam panels.
• All tablecloths available in wholesale and retail pricing.
• Available in Round, Square, Rectangle and also Oval Table linen sizes.
• Checkered square size is 1" x 1".
• Custom sizing available on all Checkered linens.
Poly Checkered Linen Care
Our Polyester Checkered tablecloths are made using 100% woven polyester, one of the easiest fabrics to wash and care for. The wrinkle-resistant and stain-release fabric can be machine washed while maintaining excellent color retention.
Wash only with like fabrics that are in the same color, using the cold or warm-cold water setting. Although any household clothing detergent can be used, we recommend using an oxygen bleach such as OxiClean to keep the white color pattern as vibrant as possible. Any noticeable stains can be removed using a pre-treater such as Shout or Resolve before washing.
Oil and food stains can be removed using a pre-treater prior to washing in warm (never hot) water. Ensure all stains are removed during wash before transferring to the dryer as heat may permanently set the stains.
Tumble dry on low heat, not exceeding 180 degrees, until completely dry and remove immediately to prevent wrinkles from setting in. Washing linens individually and using the Permanent-Press dryer setting will also help to prevent wrinkles once dry. If wrinkles occur, they can either be steamed out or ironed inside-out on a low setting.
Store your poly checkered linens with like fabrics inside of a waterproof bag with a smooth surface to prevent snags or tears. We provide such storage bags for an additional cost with each purchase. Keep in a cool, dry area for lasting quality or color brilliance.