Rustic Burlap Tablecloths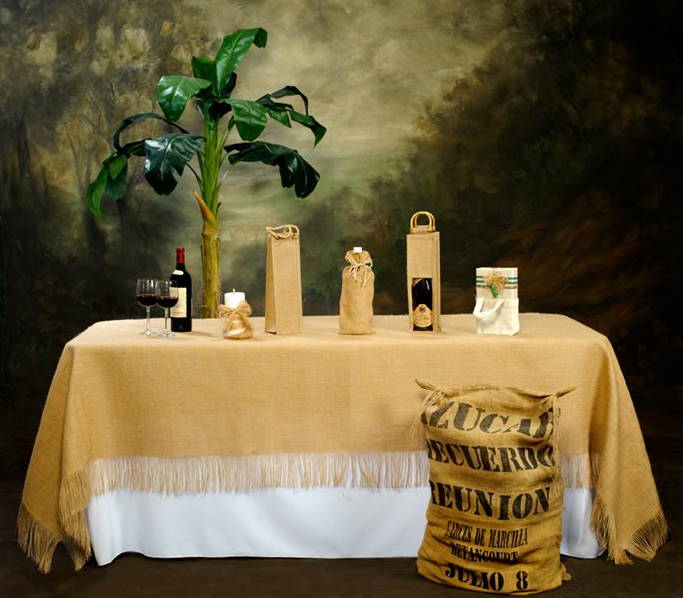 Create a rustic wedding, party, or event with Jute Burlap.
Welcome to the burlap tablecloth collection at Premier Table Linens! If you're looking to infuse your events or home decor with a captivating blend of rustic charm and excellent quality, you've come to the right place. Our carefully curated selection of burlap tablecloths is designed to capture the essence of rustic-inspired natural beauty while adding a touch of sophistication to any space. Crafted with meticulous attention to detail and using only the highest quality jute fabric, our burlap overlays, and tablecloths are works of art that will elevate the ambiance of your gatherings to new heights!


Burlap Tablecloths
Long before the rustic craze we began manufacturing the finest Jute burlap tablecloth, overlays, burlap table runners, napkins, and burlap drapes. We have a passion for burlap and have established a sister company Premier Burlap Boutique in Coral Gables, Florida to make the finest quality Jute burlap in America. It is a tight woven, refined high-end fabric with finished hem or fringe that will transform any event, wedding or setting into a rustic and chic look.
About Premier Burlap Tablecloths and Linens.
Made from 60" wide fabric. Our Jute burlap table linens are elegantly hemmed. It is available in natural or cream white jute with a Merrow stitched hem finish. For an even more rustic and stylish look, our experienced textile staff will add a beautiful handmade fringe to any burlap tablecloth or table runner.
We have been proudly selling our burlap to brides for rustic weddings, farm weddings, beach weddings, wedding planners, party rental companies, resorts, event planners and to 1000's of customers that want the best quality burlap for their receptions and have received the highest reviews and feedback about our products.
We are honored to have been awarded the 2013 Bride's Best Choice award and 2014 ,2015, 2016, and 2017 Couples Choice Award presented to only the top 5% wedding professionals in the entire country. We are so confident you will feel the same about our burlap that we offer a 100% unconditional satisfaction guarantee and like all our products, a 110% best price match guarantee valid for 14 days after purchase.
At Premier Table Linens, we understand the importance of creating a warm and inviting atmosphere for your guests, for any occasion. That's why our burlap tablecloths are the ideal choice for a wide range of events, from intimate gatherings to grand celebrations. Whether you're hosting a rustic-themed wedding, a cozy farmhouse dinner, or a charming outdoor picnic, you'll find the perfect tablecloth to suit your style and enhance your table settings in this collection.


Our burlap tablecloths not only add a touch of rustic elegance but also provide exceptional functionality, as they're made from durable and sustainable jute fibers. The natural texture and earthy tones of burlap create a warm and cozy atmosphere, while the sturdy, tightly-woven fabric ensures long-lasting use. Each burlap tablecloth is available in two neutral colors (natural and cream white) that can effortlessly complement a variety of decor styles, allowing you to easily create a cohesive and visually appealing setup for your next event.

Available in various sizes, shapes, and styles, our burlap tablecloths can cater to a variety of needs. We offer a wide range of choices to accommodate different table dimensions and design preferences. Additionally, these tablecloths and runners are available with either a finished hem or fringe. Made from 60" wide premium jute fabric, our burlap tablecloths are elegantly hemmed with a clean Merrow stitched finish. For an even more rustic and stylish look, our experienced textile sewers can add a beautiful handmade fringe to any burlap tablecloth. Even products that are not listed as fringed burlap tablecloths can be upgraded to include this unique finish!


Browse through our burlap tablecloth collection and experience the charm and versatility that burlap brings to your table decor. With our high-quality products and exceptional customer service, Premier Table Linens is your go-to destination for all your table linen needs. Shop now and transform any occasion into a memorable and stylish affair with our exquisite tablecloths!