Burlap Tablecloths & Overlays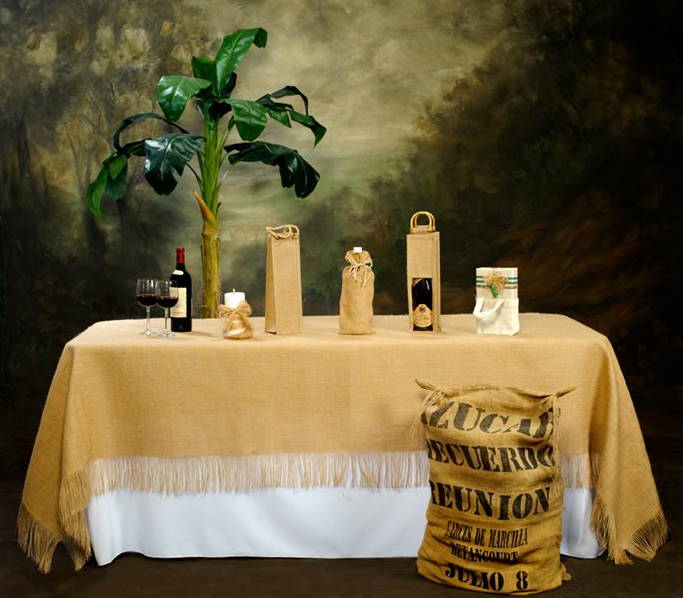 Create a rustic wedding, party, or event with Jute Burlap.
Burlap Tablecloths
Long before the rustic craze we began manufacturing the finest Jute burlap tablecloth, overlays, burlap table runners, napkins, and burlap drapes. We have a passion for burlap and have established a sister company Premier Burlap Boutique in Coral Gables, Florida to make the finest quality Jute burlap in America. It is a tight woven, refined high-end fabric with finished hem or fringe that will transform any event, wedding or setting into a rustic and chic look.
About Premier Burlap Tablecloths and Linens.
Made from 60" wide fabric. Our Jute burlap table linens are elegantly hemmed. It is available in natural or cream white jute with a Merrow stitched hem finish. For an even more rustic and stylish look, our experienced textile staff will add a beautiful handmade fringe to any burlap tablecloth or table runner.
We have been proudly selling our burlap to brides for rustic weddings, farm weddings, beach weddings, wedding planners, party rental companies, resorts, event planners and to 1000's of customers that want the best quality burlap for their receptions and have received the highest reviews and feedback about our products.
We are honored to have been awarded the 2013 Bride's Best Choice award and 2014 ,2015, 2016, and 2017 Couples Choice Award presented to only the top 5% wedding professionals in the entire country. We are so confident you will feel the same about our burlap that we offer a 100% unconditional satisfaction guarantee and like all our products, a 110% best price match guarantee valid for 14 days after purchase.