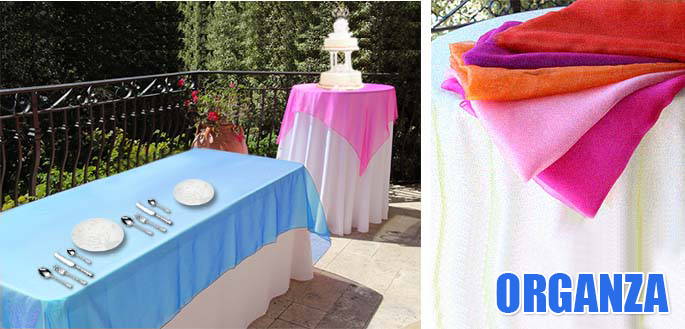 Are you looking for an overlay for your wedding tables, or an accent for an event? Organza table overlays make an exciting and colorful addition to your tablescape, not limited to weddings or parties. Organza can be used for many effects and looks. For example, wedding table overlays in organza can be used to accent and highlight colors of a themed wedding, use them for the cake table or the present table at your wedding, providing a much needed splash of color and vibrancy to any event table. Holidays and parties are also a great time to buy sheer organza overlays, an orange overlay on a dark colored tablecloth works great for Halloween for example, and the only limit is your imagination. Browse colorful green and red for holiday festivities.
How do I use a tablecloth overlay? When deciding on what size of overlay to use you should first consider the "look" that you are going to want to create. If you're looking to buy table overlays for all of your tables then you may want to consider a uniformed drop on all tables so you have a matching look on all tables. Or maybe you would like a square overlay on a round table, this look can be very striking with a nice point on each corner or the center depending on how you arrange your overlay.
Overlay or Tablecloth? The term "overlay" refers to a table linen that is placed over another table linen or tablecloth. Therefore, the term overlay and tablecloth do indeed have a very similar definition. In essence, they are the same product referred to in a different way depending on their use. We hope that helps clear that up!
Our sparkling organza table overlays and toppers are unlike most sold on the Internet, and are not only manufactured in the USA but from a very good quality organza fabric with a beautiful serged finished edge. Organza is available in 19 sparkling colors. The fabric is 100% Nylon and easy to care for. Wash in cool water and dry on low heat.