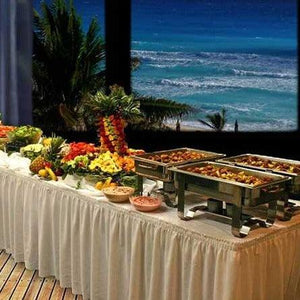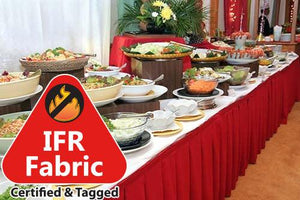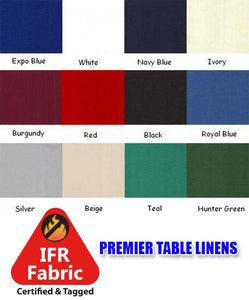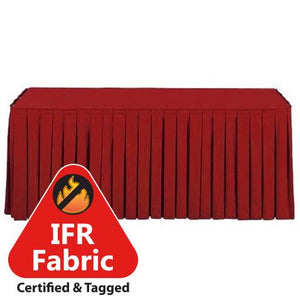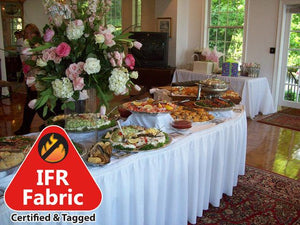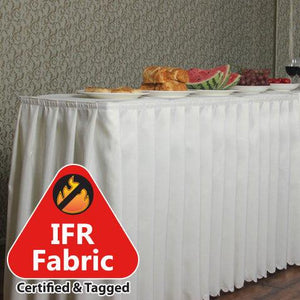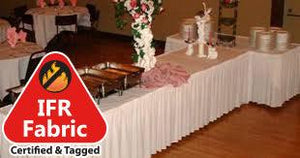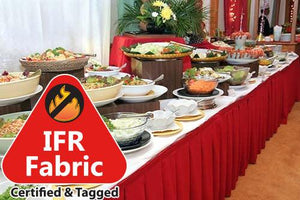 Detailed Description
Specifications
More Information
For public buildings and exhibitors at trade show that are required to be in compliance with fire regulations, Inherently Fire Retardant table skirts that passes not only the the NFPA 701 but also the CA Small Scale test which is now used Nationwide as well as ULC-S109-14 fire standards. No matter how many times the table skirts are washed the fire retardancy will never fade away. Certification is included with purchase along with individual IFR tag sewn onto each table skirt.
The most popular table skirt is the shirred (meaning gathered or ruffled) table skirting. Skirting is the standard 29" height. The 21' skirts all four sides of a 6' or 8' banquet table. Our Poly Premier is practically wrinkle free and manufactured in the United States with soil release properties and very durable. 100% Polyester Double Stitched with T-20 spun poly thread.
Easy care - machine wash, tumble dry.
Premier Table Linens has been manufacturing linens for 12 years and very well-known and respected in the hospitality, wedding and special event industries.
The quality of these shirred skirts is second to none.
Table skirting clips used to attach the skirt to the table are also available for purchase.
Inherently Fire Retardant Table Skirting
More and more cities, municipalities and public venues, especially convention centers are requiring table covers, table skirts and drapes at exhibitor booths be fire retardant. Some only require that the textiles be flame resistant which can be achieved by chemically treated the fabric and passing the National Fire Prevention Association 701 test criteria. Others require the linens, skirting and drapes to be Inherently Fire Retardant, also known as Inherently Flame Retardant. It is abbreviated and sometimes referred to as IFR. This means the product has been woven, manufactured from fibers that do not support igniting. IFR is the highest level of fire safety of the two because unlike flame-resistant textiles that are treated and the treatment dissipate with washing or dry cleaning, washing IFR table skirts does not wash away fire suppression qualities.
Our Inherently Fire Retardant custom skirting passes the following fire safety test;
United States NFPA 701
CALIFORNIA TITLE 19 SMALL SCALE TEST
ULC-S109-14, International Small-Flame and Large-Flame Tests Accreditation
CANADA NFPA 705
Buyer will receive the certificates and each skirt has a sewn tag indicating it is IFR and testing seal.
100% Polyester, commercial grade and durable, our Inherently Fire Retardant Poly Premier table skirts are available in 12 colors and available as Flat Wraps (non pleating) or Shirred pleating. Easy care, machine washable.
Premier table linens provides you peace of mind, compliant table skirting to local and State Fire Marshal and convention center inspection.