Economy Table Skirt Poly Knit Satin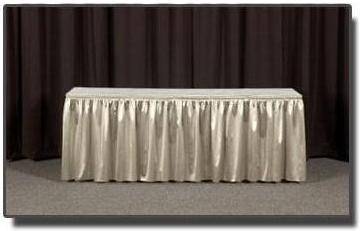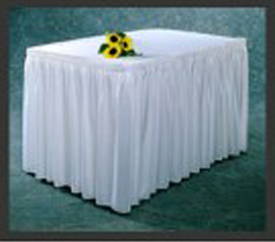 In this category we offer economy table skirts that are good quality and at the best price in America backed by our 110% best price match guarantee and an unconditional money back guarantee. We have three fabrics in this category, the Poly Sateen, our least expensive table skirting and a little less expensive than the Poly Knit skirting and the Poly Premium which a lot of other companies list as a deluxe table skirt but because of our great pricing we have put in the Economy table skirt section. All table skirts are in stock in large quantities and orders placed by 3pm EST Monday through Saturday ship the same day. These table skirts are popular for trade shows, conventions, business meeting or home where the skirting is not used on a regular basis. It is a less expensive alternative to other table skirts and still looks nice and professional. Click on any product to read more about the table skirt fabric and to view our volume discount pricing.
• Shirred pleat,
• 100% Polyester.
• Double sewn.
• Wrinkle resistant.
• Easy care - machine wash cool water, dry low heat cycle.
Poly Knit Table Skirt Shirred Pleat
Regular price

from

$18.42
White 14' x 39" Poly Knit Satin Table Skirt Shirred Pleat
Silver 14' x 39" Poly Knit Satin Table Skirt Shirred Pleat