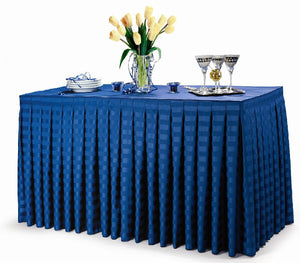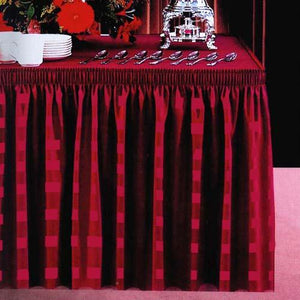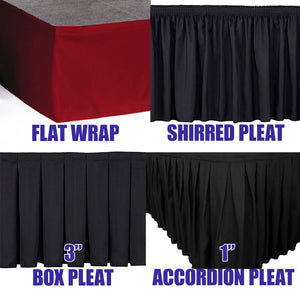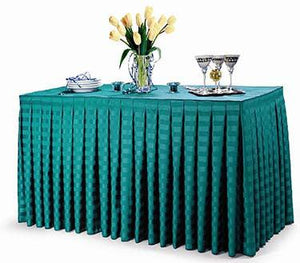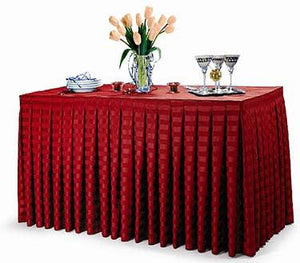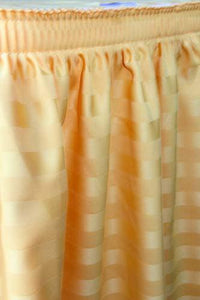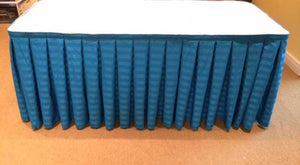 Detailed Description
Specifications
More Information
Premier Table Linens has been manufacturing table skirting for more than10 years. We are now well known with excellent reputations in the Wedding and Hospitality industries. Poly Stripe and our Havana Collection are our top of the line table skirting.
Poly Stripe skirts are double stitched with T-20 poly stripe thread and have beautiful, elegant satin stripes. Choose for the stripes to be horizontal or vertical on the table skirts you purchase. Poly Stripe is a favorite with our high-end special events customers, fine dining and Country Clubs.
Box pleated table skirts are more expensive because we use a full 2 to 1 ratio of fabric in manufacturing. Our box pleat skirts offer a 2 pleat sewn with T-20 poly stripe thread. The box pleat skirt is sewn with buckram to be fully washable and retaining the elegant look they are known for.
We use hook and loop for excellent grip retention and durability. Easy care, machine wash or commercial laundry. Very wrinkle resistant, practically wrinkle free. 33 Colors are available to choose from. The skirting fabric colors are not purchased from large overseas mills. We have them exclusively made to our specifications and are lab dipped, dye matching inspected which will ensure replacements will always be a perfect match to existing inventory.
Proudly manufactured in the United States. Made to order.
Poly Stripe table toppers and table skirting clips used to attach the skirt to the table are also available.
Poly Stripe table skirts are very impressive, radiant table skirts that will lend an air of upscale elegance to any setting! Very popular with party rental companies, upscale hotels, resorts and country clubs.
Excellent quality.
Dazzling, elegant, impressive.
100% Woven Polyester, 7.2oz..with beautiful satin stripes.
Excellent color retention
Heavy weight table skirts.
Remarkably durable.
Stain release fabric.
Very wrinkle resistant.
Low lint.
Easy care - machine wash, dry low heat.
Available in 33 radiant colors.