Outdoor Tablecloth With Umbrella Hole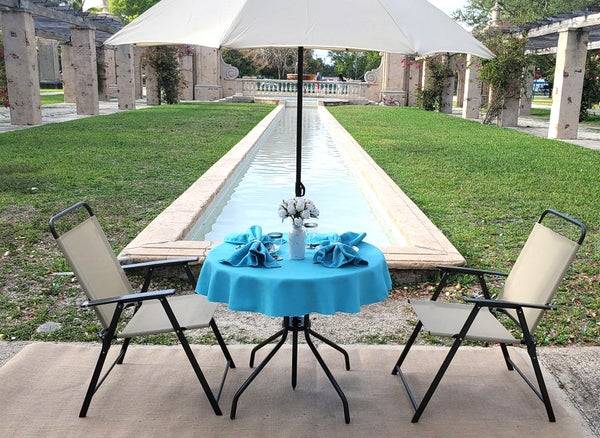 Since covid, we are all gathering with friends and family much more outside, on our patio or yard. Outdoor weddings remain very popular as does dining at restaurants and cafes al fresco. For this reason, we now offer outdoor tablecloths with umbrella holes. For tables where the umbrella is very heavy or can not be removed, we provide a slit with adhesive fastener to place the tablecloth around the umbrella in all tablecloth sizes. In addition, in only a few sizes, you will also see below outdoor tablecloth with umbrella hole and zipper.
For dining room tablecloths, unless completely covering the table to the ground, an 8" to 10" drop is recommended. For outdoor tablecloths we recommend a shorter 6" drop unless covering the entire table for weddings or special events.
We have over 70 sizes listed. If you need a custom size not listed, use our A.C.T.S. (Any Custom Tablecloth Size) to order.