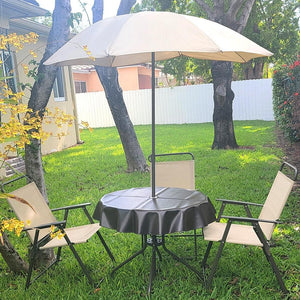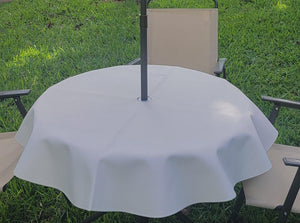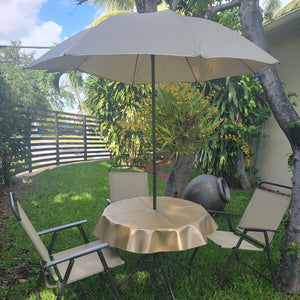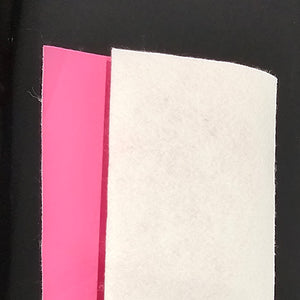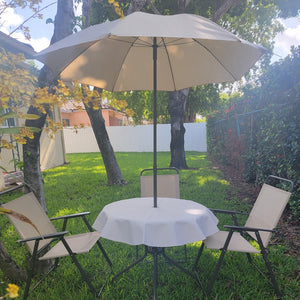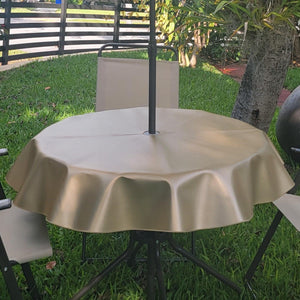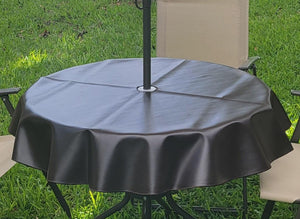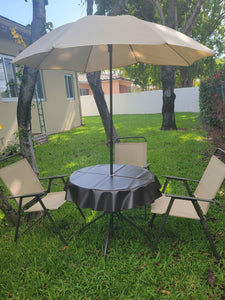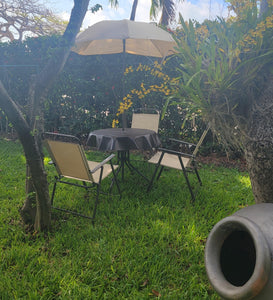 Detailed Description
Specifications
Outdoor Vinyl Tablecloth With Umbrella Hole Tablecloth With Flannel Backing
Our vinyl outdoor tablecloth with umbrella hole is excellent quality, heavy weight vinyl with felt backing. Easy to clean and disinfect vinyl tablecloth. Simply wipe clean this spill proof tablecloth with soapy water or a mild disinfectant. Our vinyl tablecloth with flannel backing not only ensures durability and a non-slip design but also serves as a table protector as well! Protects your table from scratches as well as heat.
Commercial grade, 6 gauge vinyl tablecloth available in 33 solid colors and 8 checkered vinyl tablecloth colors. Color samples are available for only .50 each so consumers can receive samples of the colors they are considering and find their perfect color(s).
For outdoor tables, only the umbrella hole is needed. For umbrellas that are not removable or that are heavy, we offer the umbrella hole, slit and Velcro closure to simply place the viny table cloth around the umbrella.
The sizes listed are table cloth sizes, not table sizes. With vinyl for outdoors, we recommend a 6-inch drop. Be sure to add the desired drop twice to the table width and twice to the length. For example, if the table is 48 x 72, a 60 x 84 vinyl tablecloth will give your table a 6" drop all the way around. All sizes are available and any custom tablecloth size can be made as well. If your perfect size is not listed, select the closest size up listed in the product sizes and then in the note section, let us know what size to make your outdoor table cover. Please note that the fabric is 54" wide. Sizes larger than 54" wide will be constructed with a side panel on each side.
We take great pride in not only the quality of our vinyl table covers but the quality with which we make them. Edges are finished with a professional overlock stitch.
Our vinyl tablecloths are shipped folded in a box. To avoid creases, we offer the option to ship rolled on a tube.
For those who wish to save money and have the cover ship folded in a box, here is a short article on How To Remove Creases and Wrinkle from vinyl tablecloths.
Production time is 2 business days. We offer both standard and expedited shipping nationwide.
Care and cleaning instructions
Vinyl should never be machine washed and there is no reason to need to do so. Use a paper towel or damp cloth and wipe off any spills with soap and warm water. It is very important to do so as soon as the spill occurs. Otherwise, it can stain your vinyl table cover. Use a medium bristle brush if necessary to remove soiling agents embedded in the surface. If using an all-purpose cleaning, or disinfecting spray, test in an inconspicuous spot before using. Also, be sure that the cleaner does not contain more than 10% bleach.
Do not use alcohol-based cleaners.

Contact us
Any questions, feel free to call our trained table linen professionals at (800) 937-1159.
We are open from 8:30 a.m. to 5:30 p.m. Eastern Standard Time, Monday through Saturday.