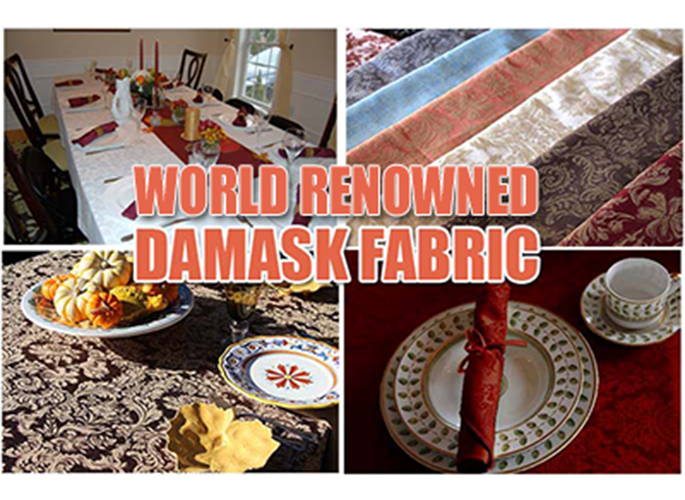 Damask tablecloths and table linens come in a selection of 5 fabric styles. Our Damask table linens, as with all our other tablecloths and table linens, are available to purchase as a single table linen or you can purchase in quantity and receive a wholesale volume discount.
The name "Damask" comes from Damascus, a city made famous in the twelfth century for the beauty of its ornamental fabrics, fashioned through techniques based on ancient Chinese weaving methods.
Damask weaves are commonly produced today in polyester and polyester-cotton blends which feature ornamental patterns. Damask fabric is created when the lines of weave wrap thread run in a different direction from that of its base, or weft, forming a pattern that has a reversible positive/negative image. It relies on the play of light to give dimension to the pattern which is subtle and rich at the same time. Our Damask tablecloths for sale are perfect for playing up the light and offering a delicate, subtle pattern that won't draw too much attention away from the rest of your tablescape.
The Damask tablecloths and table linens combine a soft, natural feel with performance and durability. Our Damask tablecloth offers excellent color and pattern retention even after years and repeated laundering. These superb table linens are magnificent to touch, lovely to look at and have a beautiful drape and luster. Our Damask tablecloths have a soil resistant finish and are machine washable.
• Kenya and Somerset: 100% Polyester
• Miranda: 50% Polyester, 50% cotton blend
• Melrose and Saxony: 59% cotton, 41% Polyester
• All are very elegant, graceful, and classic.
• Transform any ordinary room to extraordinary.