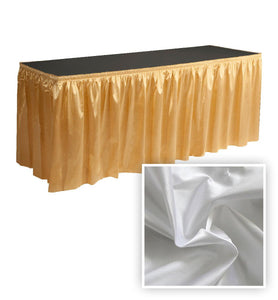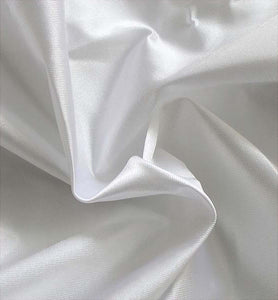 Detailed Description
Specifications
Poly Knit is an inexpensive, medium quality, 100% Polyester, light weight table skirt with a Satin finish. Poly Knit is a popular table skirt for trade shows, meetings and many other formal events where the table skirting is not used on a regular basis. We also carry the matching Poly Knit table toppers. The Poly Knit table skirts with genuine Velcro® brand backing attach to the table by using eight to ten table skirt clips. See our table skirt clip listings to determine which size you need and to add to order.
Care instructions - Machine washed in cold water, using a mild detergent, such as Ivory Snow. The detergent should be added to the water prior to adding the fabric. Dry using low heat or air only setting. Remove promptly. May iron using a low setting on iron. The table skirting hangers made specifically for table skirts is not only a very practical way to store the table skirts but will help keep investment wrinkle free to reduce wrinkling.