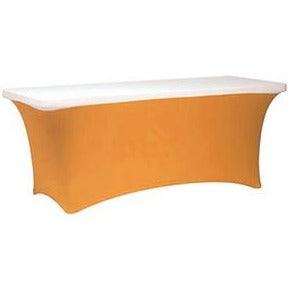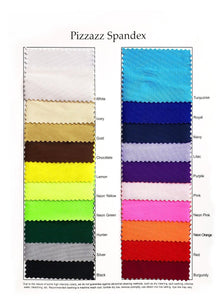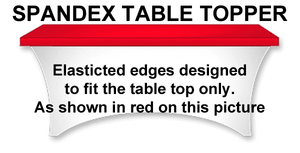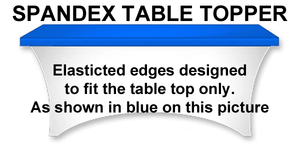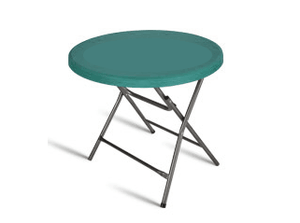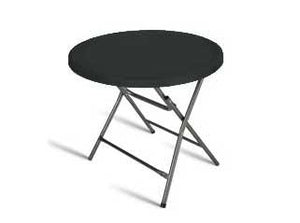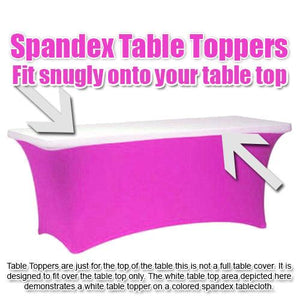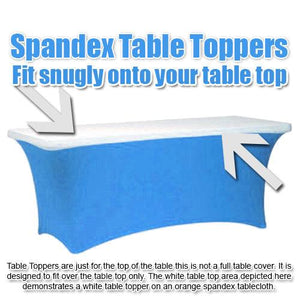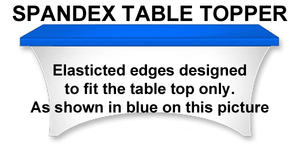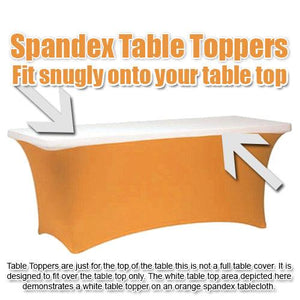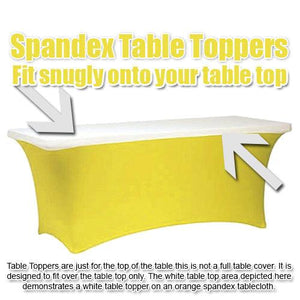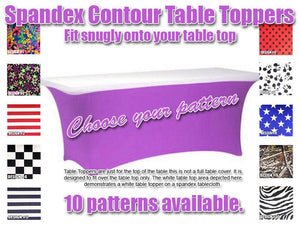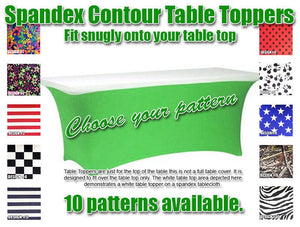 Detailed Description
Specifications
More Information
Upgrade your Spandex table linens with our wholesale Spandex table toppers, also known as Spandex caps. It not only adds color but truly takes your décor to another level. The Lycra toppers slip over the tablecloth on the top of the table. Go under the lip of the table and stay in place with heavy duty, stretch elastic that is double sewn into the cap. 26 Colors to choose from and pair with your Spandex tablecloths. Top of the line quality from the trusted manufacturer. A + Better Business Bureau rating. Voted best textile manufacturer in Miami 2016 and 7 consecutive years we have been recipients of the Couples Choice Award presented to only the top 5% of wedding professionals. Machine wash, tumble dry. Do not iron. Any wrinkles stretch right out when attached to the table!
Creating a color block appearance for your event has never been easier! Our spandex elastic table toppers, also known as spandex caps, are manufactured with high end quality, U.S. made Lycra Spandex. These covers slip right over the top of the table, and are secured under the lip of the table with heavy-duty, stretch elastic that is double sewn into the hem. Spandex toppers are available in 26 colors to match the theme or color scheme of your wedding, party, corporate, or catering event. The beauty of these pieces is that you don't have to worry about finding a tablecloth if you already have table skirts selected. Instead, use what pieces you have, and add our spandex toppers to hide the top of the table. You can match perfectly to the table skirts that we have, or you can find beautiful contrasting colors to create a stunning tablescape that is sure to catch everyone's eye. The contrast is an impressive addition to any event, and works well if you are working with multiple colors in your event's theme.
We have a variety of pieces to choose from, with spandex table toppers available for round, square, or rectangle tables. We have such a large variety to ensure that any product we offer will work for your various needs. Whether you are planning one event, or a pro in the hospitality industry, you'll definitely want to browse through our selection of elastic table toppers. We have plenty of wonderful choices, that are reusable for your future events. Each of our linens are made with only the highest quality fabric, ensuring that they are easy to clean and store until you need them again.
Spandex table caps pair perfectly with our table skirts for a professional and elegant tablescape.