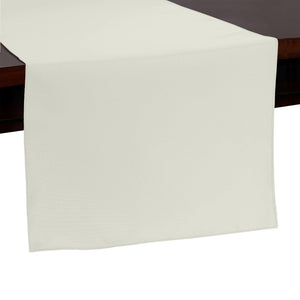 Detailed Description
Specifications
More Information
Poly Premier table runners are a favorite in the wedding and hospitality industry and our best-seller because it is available in 74 vibrant colors. Listed in all the standard sizes, but we can custom make any size. Complement your table linens with a coordinating or contrasting color table runner. 100% Polyester which means very easy care and excellent color retention on these table runners. Ideal for wedding receptions, anniversaries, special events or a special occasion at home. Very easy care, machine wash, tumble dry.
Premier Poly Table Runners 74 Colors to Contrast or Compliment
When decorating your table the use of a table runner can add an exciting contrast of color, or a colorful compliment to your table displays. We are often asked "How should I use a table runner?." Well there isn't a standard protocol when it comes to runners. Direction of your runner should be your first consideration. Would you like your runner to run with the length of the table? or would you prefer the runner to go across the table in the middle. Either way the table runner will work for you.
Premier Table Linens offers you a choice of 74 colors in our Poly Premier fabric. 100% Poly Poplin Polyester Table runners to compliment your table linen decor. Poly Premier runners are machine washable and easy care. After selecting the correct size and color for your table runner you will have the option to select either a square or pointed end table runner.
Please note as mentioned on each individual product, when purchasing the 13 inch wide table runners that these products are sold in quantities of 4. Due to the bolt width of the fabric we sell them in fours so as to keep the cost down by minimizing wasted linen from cut offs.
What size table runner do I need?
A very common question that we hear all the time from our customers. In order to calculate your runner length you will need to know 2 factors. Firstly how much of a drop do you want on your table runners. This means how much do you wish them to hang over the end or the side of the table, dependable upon your design. So lets say that you have an 8 foot banquet table and you want a table runner to drop 12 inches on either end.
So lets do the math, your table is 8 feet long (96 inches) You would like your runner to drop 12 inches on either end of the table. 96 + 12 + 12 = 120 inches long. So that's all well and good for a runner that you want to run the length of the table.
Now if you wanted your runner to run across the table in the middle for example. Your 8 foot banquet table is 30 inches deep, and you would like a drop of 15 inches on either side. Again lets do the math, Your table is 30 wide + 12 drop on front + 12 drop on back = 54 inches. Your table runner would need to be 54 inches long.
Premier Polyester Table Runner Specifications
| | |
| --- | --- |
| Material: | 100% Polyester |
| Product Grade: | Premium |
| Material Blend: | 100% Polyester |
| Width: | 13 Inch or 30 Inch |
| Length at 13" Wide: | 72", 90", 108", 120" |
| Length at 30" Wide: | 60" and 88" |
| Manufacturer: | In Stock or 24 Hr Production USA Made |
| Custom Sizes: | Available upon request |