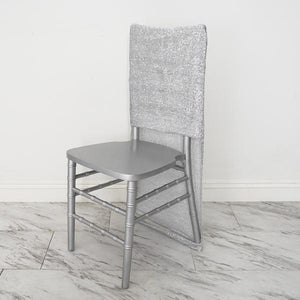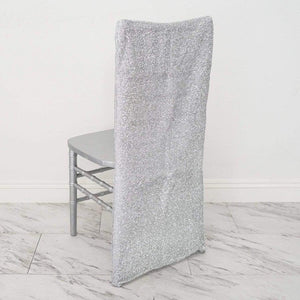 Detailed Description
Specifications
Premium Sequin Chaivari Chair Jacket
Add a stylish twist to your Chiavari chairs with our Metallic Silver Spandex Chiavari chair jackets. These slip-on covers are stress-free and a breeze to decorate with, taking only seconds to set up for each chair. Our spandex chair back cover hugs the back rest of a Chiavari chair and has reinforced pockets for the feet of the back legs to ensure the covers don't slip out of place during your event.
Jacket for square-top chairs such as Chiavari and other chairs fitting required dimensions only.
Chair Measurements: dimensions can be smaller but not longer as fabric can only extend so much before tearing.
Chair Back: Bottom to Top: approx. height 36" tall. Entire back of chair will be covered by fabric.
Chair Front: approx. 16" height x 15" wide of chair front will be covered by fabric.
Chair Square Top: approx. 16" Wide.
Material: Shiny Sequin Beads, taffeta fabric.
Dry clean only.