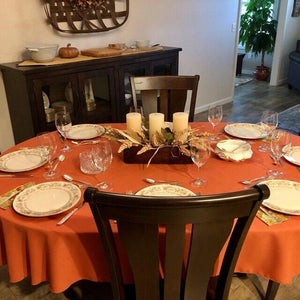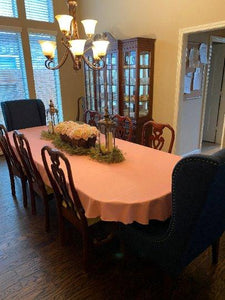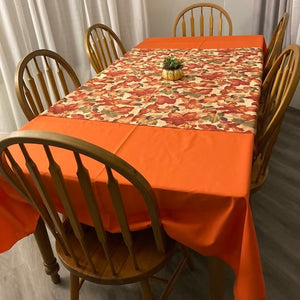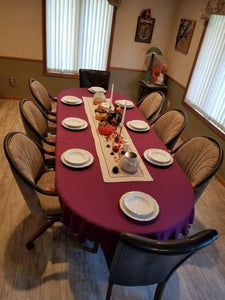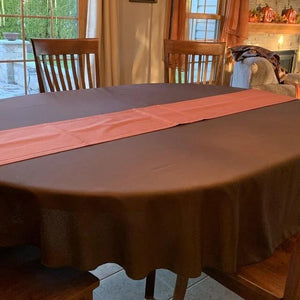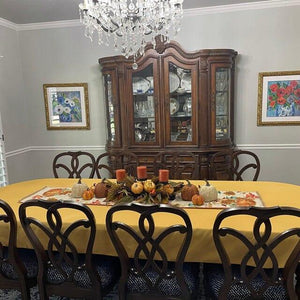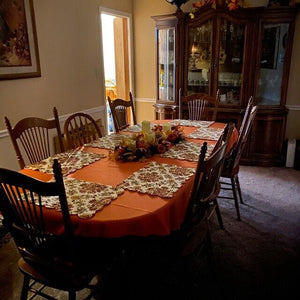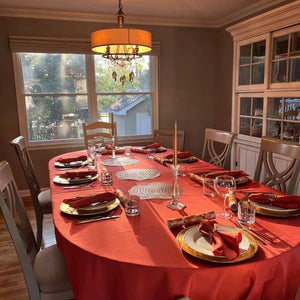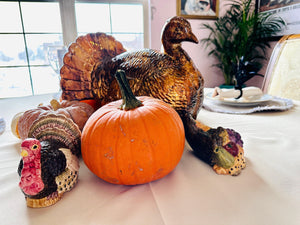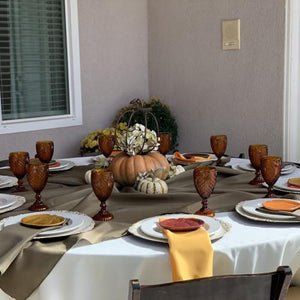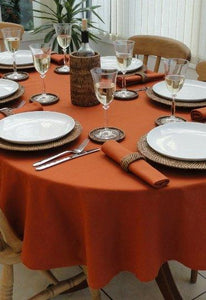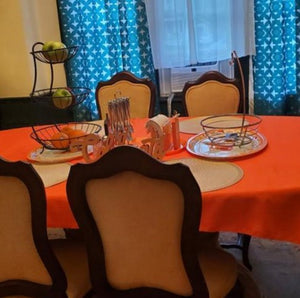 Detailed Description
Specifications
As the leaves change colors and the air becomes crisp, it's the perfect time to update your dining table with an exquisite fall tablecloth and napkins! These tablecloths are crafted with expert precision using our bestselling poly premier fabric, so you know they're made to last. They feature a 200 GSM fabric weight, are shrink and wrinkle-resistant, and offer excellent color retention. Easily elevate your dining experience and create a warm, inviting ambiance for your guests by shopping our premium fall napkins and tablecloths today! For the dinner napkins, you are welcome to mix and match.
Premier Table Linens' fall tablecloths and napkins are available in an impressive range of 24 different colors, each part of those gorgeous autumnal color schemes we know (and love!). Options include (but aren't limited to) burnt orange, honey, gold, camel, copper, olive, army green, espresso, brick, and terra cotta, each perfectly matching nature's palette of earthy tones. With so many options, you'll have no problem choosing a tablecloth that complements your seasonal décor! As for fall napkins, the possibilities are endless - choose the same color as your tablecloth or mix and match with a different autumnal shade to create a unique color scheme.
Here at Premier Table Linens, we understand that every table is unique, which is why our tablecloths come in a variety of sizes to fit your needs. Whether you have a cozy round table or an expansive rectangular one, we have the perfect fit for you! This tablecloth listing includes round, rectangular, square, and oval options in all sizes. Keep in mind that the sizes listed are tablecloth sizes, not table sizes. To find your size, we recommend adding the drop you desire twice to your table width and length size - a standard dining drop is anywhere from 6" to 12".
This fall, create cherished memories with your loved ones around a table adorned with our exquisite fall tablecloths and napkins. These linens add a touch of elegance to every occasion, so they're perfect for family dinners, Thanksgiving feasts, or any autumnal celebrations. Order your table linens today and infuse your dining space with the warmth and splendor of the season. Please contact our customer service team at 1 (800) 937-1159 with any questions!