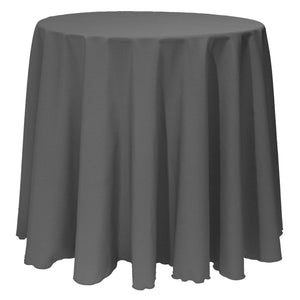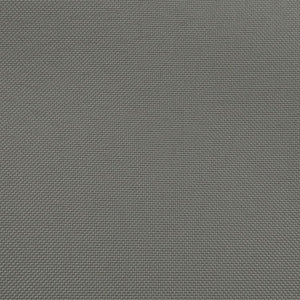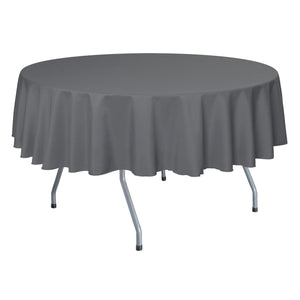 Detailed Description
Specifications
Transform your event into a sophisticated affair with the 132 round tablecloth from Premier Table Linens! Crafted with elegance and durability in mind, these tablecloths are the perfect addition to any special occasion. And because they're made with premium, high-quality fabrics, these tablecloths combine durability with refined aesthetics. With its impeccable craftsmanship and luxurious materials, the 132" round tablecloth sets the stage for an unforgettable dining experience. Whether you're hosting a wedding, banquet, or corporate event, this tablecloth will add a touch of class and refinement to your venue!
Here at Premier Table Linens, we offer 132" round tablecloths in a variety of different fabrics, including poly premier, satin, and more. Made from high-quality polyester fabric, the Charcoal 132" Round Poly Premier Tablecloth offers exceptional durability and longevity. The fabric is designed to resist stains and wrinkles, ensuring a pristine appearance throughout your event. It also features a seamless design, providing a sleek and professional look for your tables.
Alternatively, discover the stunning Round Majestic Dupioni Tablecloth, now offered in an extensive selection of 48 different colors and boasting an impressive length of 132 inches. Designed with the utmost care and attention to detail, this masterpiece is made with faux silk Dupioni, delivering a luxurious silk-like appearance on one side with a smooth satin finish on the other. The generous 132-inch diameter is suitable for most standard-sized round tables and elegantly drapes down to the floor, providing a touch of sophistication and refinement to any setting.
The 132" round tablecloth from Premier Table Linens is not only visually appealing – it's also extremely practical. These tablecloths are wrinkle, stain, and fade-resistant and are easy to clean, allowing for hassle-free maintenance. Simply toss it in the washing machine and tumble dry on low heat to keep it looking fresh and vibrant for future events. Check out the Premier Table Linens blog for additional cleaning and maintenance tips!
Here at Premier Table Linens, we hold ourselves to the highest standards when it comes to delivering exceptional products to our valued customers. Our team takes great care and attention to detail in crafting each 132" round tablecloth to perfection, ensuring that our customers receive nothing but the best. With our exquisite tablecloths, you can impress your guests with a combination of style, durability, and convenience that is unmatched. So why wait? Shop now and experience the luxury of Premier Table Linens for yourself!
How to wash and care for your tablecloths.
- Wrinkle & stain resistant *not wrinkle or stain proof*.
- Colors will not fade, even after multiple washes.
- Do not wash together with other fabrics.
- The temperature of ironing should be no higher than 290F (degrees Fahrenheit).
- We do not recommend drying these tablecloths in Laundromat dryers, they are simply too hot.- Drying Temperatures in excess of 180F can shock the cloth and create permanent wrinkles.