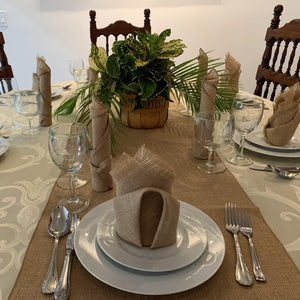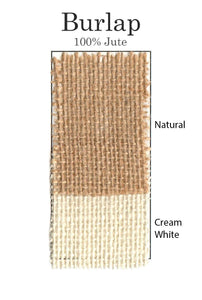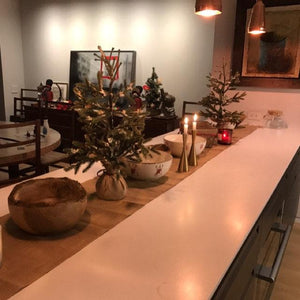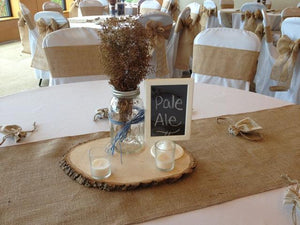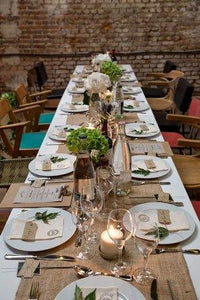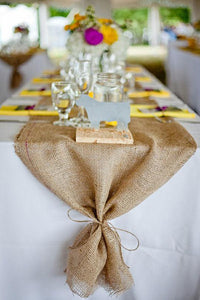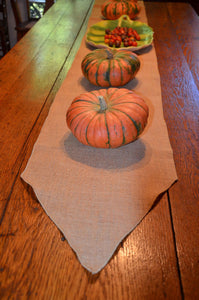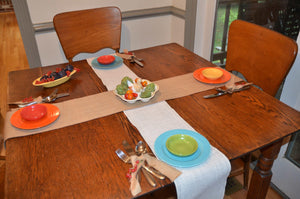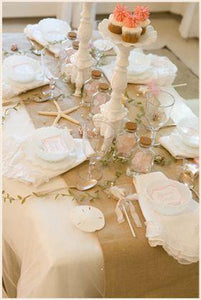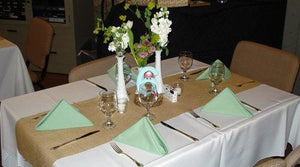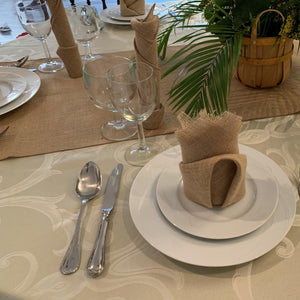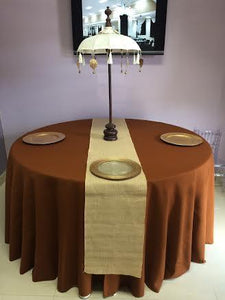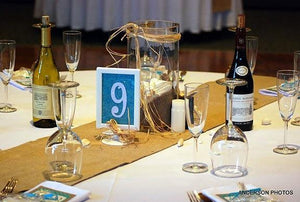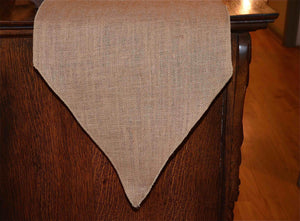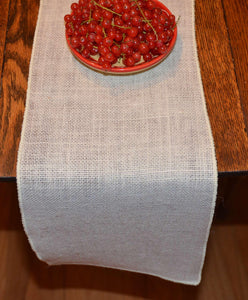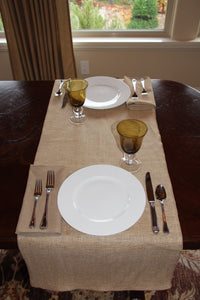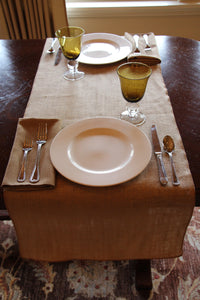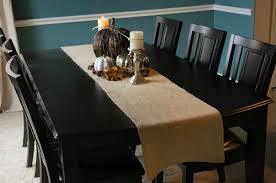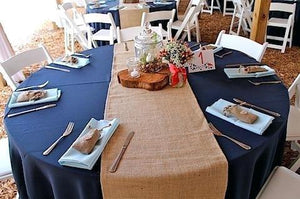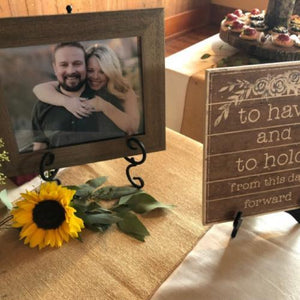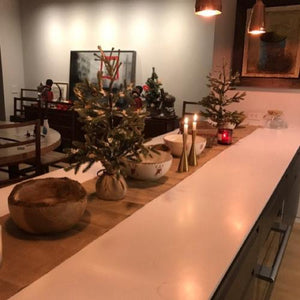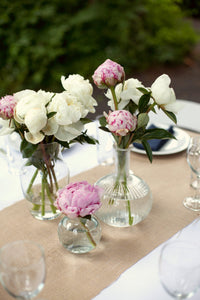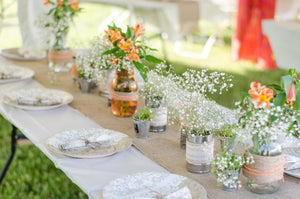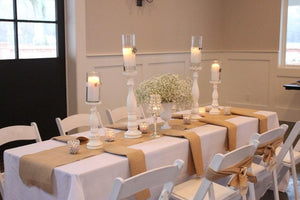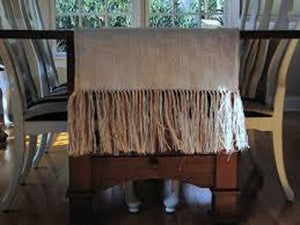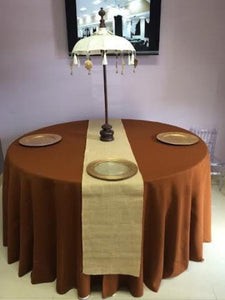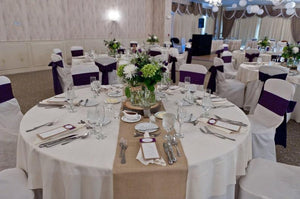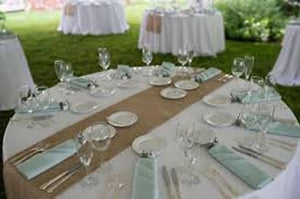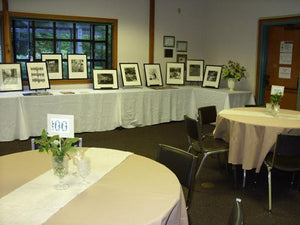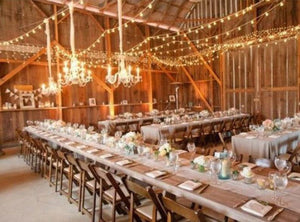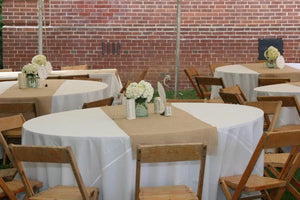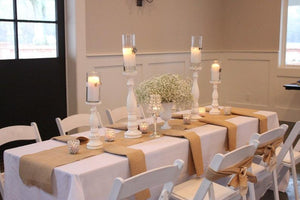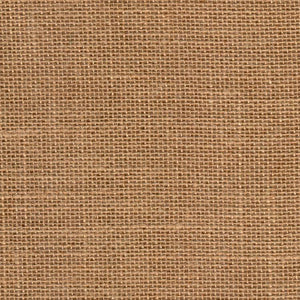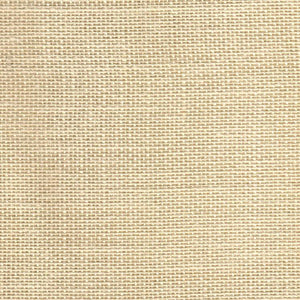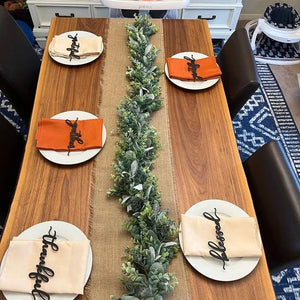 Detailed Description
Specifications
More Information
Transform your ordinary table into a charming rustic display with our burlap table runners! These exquisite table accessories are perfect for adding warmth, texture, and a touch of nature-inspired beauty to any occasion. The neutral color options (natural and cream white) and rustic texture of burlap effortlessly complement a wide range of table settings, from casual dinner themes to special events and wedding receptions. It also serves as an excellent foundation for centerpieces, flower arrangements, and other decorative elements. So whether you're hosting a country-themed wedding, a cozy dinner party, or a rustic-inspired event, this burlap table runner is the ideal choice!
Crafted with meticulous attention to detail, our burlap table runner is made from premium-quality, natural Jute fibers. Jute is a sustainable material known for its durability and eco-friendliness, making it a perfect choice for the environmentally conscious customer. It's crafted right here in the United States and does not contain any additives or Formaldehyde. The sturdy construction ensures that these burlap runners will withstand the test of time. Burlap table runners from Premier Table Linens are 13" wide and are available in a range of lengths to meet your needs, from 72 to 120". Custom sizing is also available upon request. Additionally, customers can choose between classic finished edges or a rustic fringe finish.
We understand the importance of convenience, which is why our burlap table runner is designed for easy care. The finished edges are expertly stitched to prevent fraying, ensuring that it maintains its flawless appearance over time. However, it is important to note that true Jute burlap cannot be machine washed. Instead, we recommend spot-cleaning your runners, and, if necessary, dry-cleaning them. For additional information on the care and maintenance of burlap runners, please visit the Premier Table Linens blog. Our Burlap – History & Care Instructions post covers everything you need to know to properly clean your burlap table runners.
Elevate your table décor with our burlap table runners and impress your guests with their rustic elegance. Whether you're a professional event planner or a dinner party fanatic, these runners are a must-have addition to your collection. Place your order now and enjoy the beauty and versatility of these timeless pieces. For customization options, please contact our friendly customer service team at 1 (800) 937-1159. We look forward to hearing from you!
Natural Burlap Table Runners
Burlap Table Runners make decorating an extravagant banquet a bit easier. Use our Burlap runners to pull together all of your table elements—from Birthday centerpieces, wedding tables, to candles, to place settings and table decorations. Beautifully decorate a dessert or gift table by first laying down the Burlap Table Runner to accent the decoration.
Our Burlap table runners are available in 13 and 18 inch widths, we have finishing options for the ends of the runner that offer straight ends and pointed ends, or a combination of the two. If you would like some more information about our Burlap table Runner products watch our video below where Ryan Cunningham our Technical director explains the options we have for you.
custom sizing table runners, Yes we do offer that for you as well. Custom sized runners are available for any length and width, if your needing custom sizing please call us at 800 937 1159 and speak with our customer service department will be able to assist you with your order over the phone.
Burlap Table Runner Specifications
| | |
| --- | --- |
| Material: | 100% Burlap |
| Product Grade: | Premium Grade |
| Material Blend: | 100% Natural Jute Burlap |
| Width: | 13 Inch |
| Length at 13" Wide: | 72", 90", 108", 120" |
| Manufacturer: | In Stock or 24 Hr Production USA Made |
| Custom Sizes: | Available upon request |