Full Color Custom Spandex Table Covers
Full Color Printed Spandex Table Covers - 3-Day, 2-Day or 24 Hour Production

Standard Production on Spandex Full Dye-Sublimated Stretch Tablecloths is 3 days. Upgrade to 48-hour Production for Only $12 or 24-hour Production for Only $20.
Spandex printed table covers open a new dimension in fitted printed table covers. Our fully printed spandex stretch tablecloths are available in five sizes, 4', 6' or 8' rectangular or the Highboy tables 30" x 42" and 36" x 42". We use only the highest-grade Spandex fabric which is critical for durability! Not only will printed Spandex fabric give you a sleek, modern contour look and impact, but it is wrinkle free and will stand up to the test of time. Our Lycra covers are manufactured to the highest standards from 5.5 - 6.0 oz spandex per square yard. The pockets for the feet of the table are sewn and double layered using polypropylene to ensure longevity of your table cover. We offer these products with your choice of 4-sided or open back, which has a nice arch on back that allows for easy storage under the display table or allows you to pull up a chair to sit at the table. Adding one of these custom stretch table covers to your event will add a level of creativity that is sure to catch everyone's eye.
All this while offering the best prices on custom full dye-sublimated printing in the industry. We are so certain of this we offer a 110% best price match guarantee. How can we do this? We were one of the original manufacturers of Spandex products, have established ourselves as the top manufacturer and because of the volume and experience, we can offer these fantastic products and prices.
Your design can cover the entire area of the spandex table cover, you are not restricted to just the front panel of the spandex tablecloth, your only limit is the stretch of your imagination.
As with all of our custom printed tablecloth products, you will receive a full color scaled proof prior to your items going into production, an example of which you can see below. This example also shows the printable area of any 4, 6 or 8-foot spandex table cover. You can design your artwork with up to 5 different panels as denoted below in the picture by marks 1 through 5, or you could have a single design that covers the entire fabric.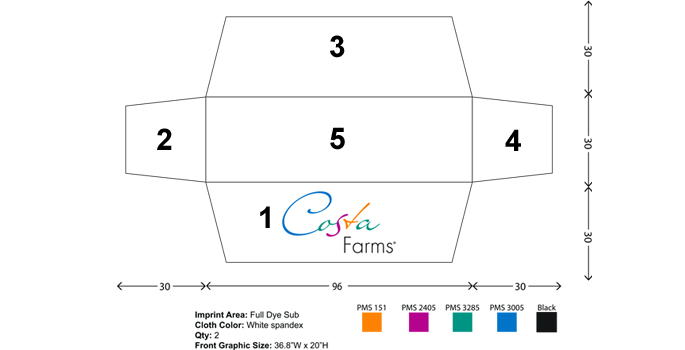 * Please note that submitted artwork files must be sent to us as one file, not 5 separate artwork files. All art must be compressed into one Ai file or similar vector format.
** Please note that due to the nature of Spandex and the fact this is a stretch product, your logo dependable upon your design, will have some stretch when the tablecloth is on the table. If keeping the constraints of your logo for corporate identity are important we would not recommend the use of a stretch material for printing. We are not able to pre-stretch and print on stretched material, this is not how the printing process works. We are not responsible for any issue relating to the stretch of your artwork with regards to the logo.
Where do I find more information on your custom tablecloth printing?
For Printed product details, artwork specification, cleaning and caring for your printed table covers please click on each product for more detailed information. Or you can click here for printed FAQ Help. Check out our plain spandex linens here.