Custom Size Printed Stage Skirting and Wraps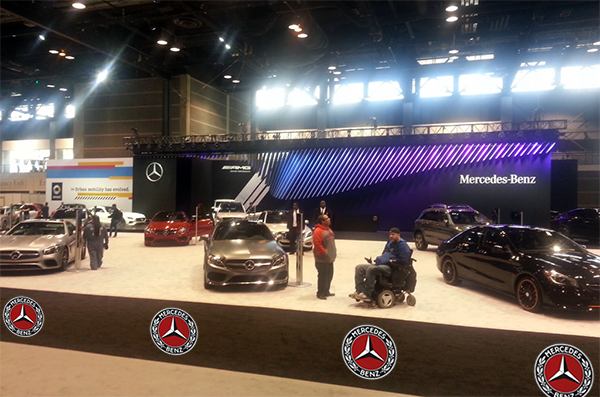 Premier Table Linens is the leader in stage skirts, any "custom" height skirting, stages, risers, platforms, counters, demo displays, and runways. With us there is no "custom" height, we manufacture non-printed from 6" to 49" Click here for more. Our Printed Linen department can now offer stage wraps printed with the latest Dye-Sublimation print method at non-custom prices. Prior to 2017 we had been custom printing stage skirts for numerous manufacturers and schools on a per special order request which we all now is expensive. The wheels have been spun, machinery and technology in place for unbelievably lower priced, vibrant color printing and production, any height, any length table, counter and stage skirting.
Available in the traditional shirred (which is a gathered) pleat with the print area flat and the pleating continuing on both sides of print or the modern, trending flat wrap style which is non-pleated, a flat wrap skirt. Sold by the foot, you select the height, the total number of feet (printed and non-printed combined) of skirting required. You have the option custom print only a portion of the skirt and select from 60 fabric colors for the rest. With this new program, printed pricing was lowered to the same low price of non-printed. Take advantage of the opportunity to brand the entire stage, step and repeat, really show off your brand, sponsorship or school at no extra cost.
200 GSM weight, highest quality Poly Poplin material. The entire back top perimeter has a 2" strip of loop side Velcro®. We use only the genuine Velcro® brand. Once we complete the print process, T-40 hemmed and sewn on every seam ensuring proper stitching, durability & single piece effect. The fabric is certified flame retardant, conforms guidelines and passes the National Fire Prevention Association FR 701-2010 test.
Custom Printed Stage Skirt Any Custom Size - All Over Print
Regular price

from

$62.00