Lace Collection: Overlays, Runners, Tablecloths, and Favor Bags
Lace Tablecloths, Overlays, Table runners even adorable little Lace Bags.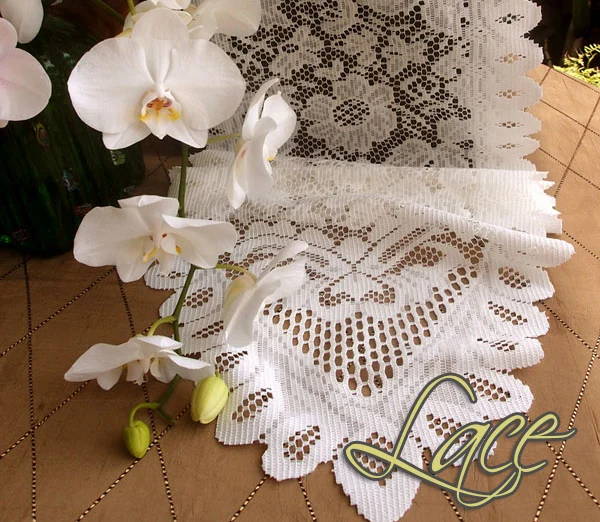 Step into a world of timeless elegance with the exquisite lace collection from Premier Table Linens! Immerse yourself in the delicate beauty and intricate craftsmanship of our meticulously designed lace tablecloths, overlays, runners, and bags. Each piece is a testament to the artistry and attention to detail that goes into creating a truly remarkable table setting. Whether you're hosting an intimate tea party, a vintage-inspired wedding reception, or a corporate event, our lace linens are designed to add a touch of sophistication and charm to every occasion. Explore our enchanting lace collection and discover the perfect timeless addition to your table setting today!
Our lace tablecloths and overlays are crafted with meticulous attention to detail, ensuring each piece is a true work of art. Delicate and intricate lace patterns adorn these tablecloths, creating a sophisticated and romantic ambiance. Available in various sizes and shapes, including round, rectangular, and square, these sheer lace overlays can be placed over any solid tablecloth, adding texture and dimension to your table arrangement. For example, consider laying cream-colored lace over a colored underlay for a romantic or rustic look. Whether you prefer classic ivory lace or a unique pewter color, our overlays lend an ethereal touch to any occasion.
Complete your table decor with our gorgeous lace runners, each featuring a beautiful pointed end and lace crochet finish. These versatile pieces can be used alone for a subtle accent or layered on top of tablecloths or overlays for a truly captivating look. In our selection, you'll find a variety of sizes ranging in length from 76" to 120". With their delicate beauty and timeless design, lace runners can effortlessly transform a plain table into a captivating focal point.
From intricately woven lace tablecloths that drape elegantly over any table shape to sheer lace overlays that create a subtle yet enchanting layer, our collection offers a myriad of possibilities for transforming your event into an unforgettable experience. Whether you're hosting a vintage-inspired wedding, a tea party, or an intimate gathering, our lace collection provides a touch of sophistication and refinement. Easily elevate your table setting to a new level with Premier Table Linens' lace linens – shop now to create unforgettable memories with our timeless pieces!