Front Panel Digital Print Tablecloths
Trade show table covers are ideal for trade shows and conventions. Branding is even more important in today's market and taking every opportunity to get your brand or name into your customer's focus is essential. We offer a great cost-effective solution for a stunning printed tablecloth at your next expo or trade show. In order to best serve our customers, we are now offering our Poly Premier fabric with 70+ colors to choose from with your choice of a single color print available in 12 imprint colors. You can even choose your imprinted area size. Our printed trade show table covers are a great option for a variety of events to ensure that everyone remembers your company name, and makes sure to stop at your table.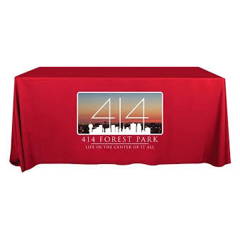 Fitted & Throw
4ft, 5ft, 6ft, 8ft
74 Fabric Colors
F.R. - NFPA 701-2010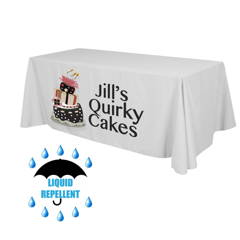 Fitted Covers & Throws
4ft, 5ft, 6ft, 8ft
Front Panel Printing. Liquid beads and makes for easy spot cleaning.