Poly Premier Printed Tablecloths & Throws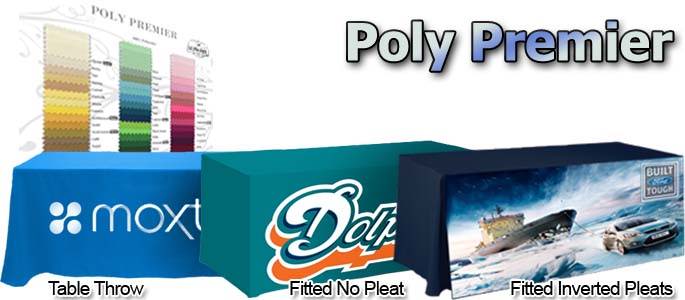 Poly Premier tablecloths are the "workhorse" of the hospitality industry. Made of beautiful, crisp linen that is very durable, and is ideal for our custom digital printed tablecloths and runners. Poly Premier fabric is a 100% woven polyester and is wrinkle resistant in addition to being easy to care for. Throw in a machine wash, then dry on a low heat cycle. Our Polyester Poplin also passes the NFPA 701-2010 #1 Flame Resistance test.
When selecting your tablecloth fabric for your digital printed product, remember that we offer 5 fabrics for you to choose from to best suit your need and application. Trade show printed tablecloths, for example, are increasingly needing to be fire retardant to comply with trade show & state regulations. We also offer our liquid repellent digital printed tablecloths and our ever popular Eco-friendly recycled printed tablecloths as well as our latest addition Burlap custom printed tablecloths.
In our digital printed tablecloths and throws category, you have the option of purchasing four-sided fitted tablecloths with pleat corners, three-sided fitted tablecloths (for events where someone will be seated at the table), four sided box fitted tablecloths (no pleating) and three sided box fitted tablecloths. These four options are available to select inside any fitted tablecloth product. After the fitted tablecloth products, you will find the table throw products, including the new convertible table throw that fits both 6' and 8' tables.
Explained in this video why we need certain art file types for your printed table cover
Where do I find more information on your custom tablecloth printing?
Listed on each printed product are all the details, artwork specification, cleaning and caring for your printed table covers.
*All images used to display tablecloths are not accurate color to the fabric. If color match is important then we recommend purchasing a color swatch for matching your color. Every monitor displays color differently and for this reason we do not guarantee, or claim that any color listed for the fabric is a match to the actual color.