Discounted Bombay Pintuck
Dupioni or Satin Your Choice With Majestic Reversible Tablecloths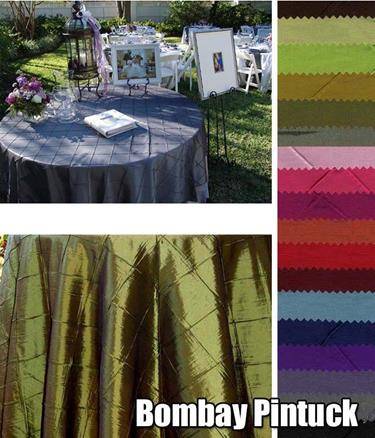 This iridescent quality fabric along with the delicate pintucks create a unique fabric like no other!
• Exuberant 4" diamond stitched pattern.
• Divine, stylish tablecloth, 23 colors.
• Click to view our Bombay Pintuck Color Swatch
• 55% Woven Polyester/ 45% Nylon.
• Seamless up to 110".
• Stain release fabric.
• Excellent color retention.
• Easy care - machine wash, dry low heat.
• Complete line, matching table skirts, overlays, runners, chair covers and sashes also available in this very elegant, festive tablecloth.
• Best prices anywhere, both retail and wholesale and we are one of the few to have this fabric seamless up to 110".
Product sizes are tablecloth size, not table sizes. Product pictures are for color representation only. Pictures / Images do not indicate drop of tablecloth as this will vary dependable on your your table sizing. If you are unsure of sizing click here for our tablecloth calculator to confirm your needed size of tablecloth for your table configuration.