Custom Printed Trash Can Covers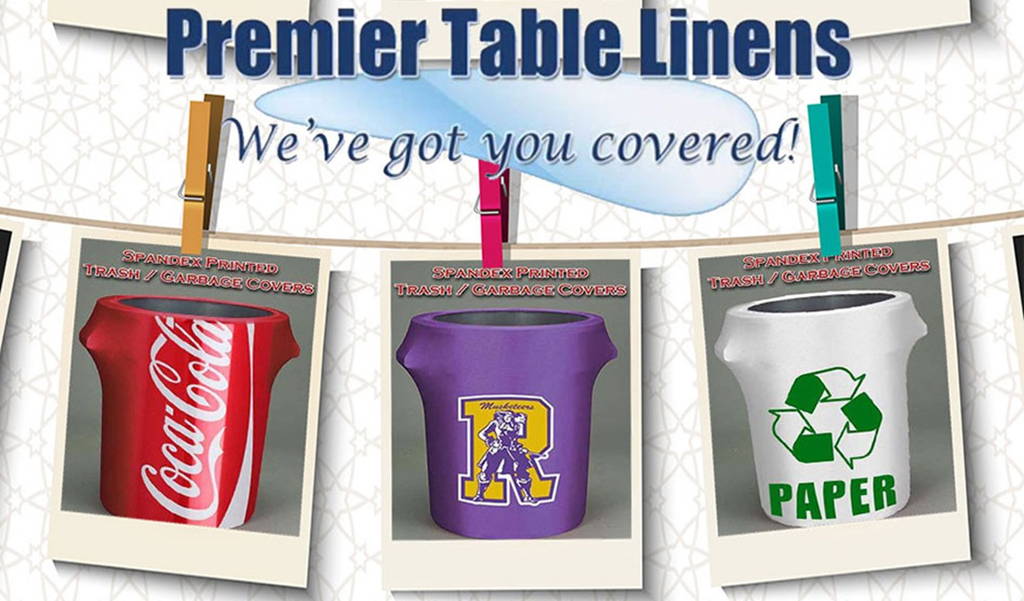 Literally turn trash into a beautiful branding opportunity with our custom printed trash can covers. Ideal for schools, trade shows, special events, grand openings, food sampling booths, music festivals, street fairs, golf tournaments and sporting events. So many practical marketing uses with our logo trash can covers. Pictured below our customer Johnson & Johnson uses them for a product sample event.
Blend the logo garbage can covers in or stand them out as impressive, attention-grabbing advertisement or marketing opportunity. Either way, Premier's custom logo print department will help you brand your school, company or event. Small details like this go a long way. We even have brides that purchase our trash can covers for their wedding reception without a logo, only printed to their wedding colors.
Libraries use our spandex trash can covers to denote the 55-gallon bins are for book returns. The Salvation Army has used bin wraps for donation drop offs at stores.
Fabrics & Trash Can Cover Options

Trash Can Covers Available in "Slim Jim 23 Gal" 32 Gal, 44 Gal. 55 Gallon.
Available in polyester or stretch spandex. Polyester fabric, being a linen does cover the garbage cans wavy just like a tablecloth on a table does. The stretch spandex trash can covers on the other hand hugs the bin and fits snugly. In addition, it is wrinkle free. Any wrinkles stretch right out. For these reasons the polyester is mainly used by brides that do not need a logo, only to match to their wedding colors. Also used in the hospitality industry where resorts can match the cans to conference room decoration designs. The spandex fabric is used for logos.
Made for both cans without wheels where the cover will have a closed bottom or for trash cans with wheels we finish the open bottom with elastic so that the wrap can slide over the wheels or wheels and coaster. The product will give you the option to select.
Print Method & Printing
We utilize the best, most vibrant print method which is known as full dye-sublimation in which the ink is married into the fabric. With this method, there is never any cracking and the product is very durable. The print is all over. You have the entire cover to print with no limitations. Print full color logo, design, photographic images and 1000's of colors. Your imagination is the only limitation.
Once the graphic art file is submitted to us, our graphics team will send a proof for clients approval within 60 minutes if before 8pm E.S.T.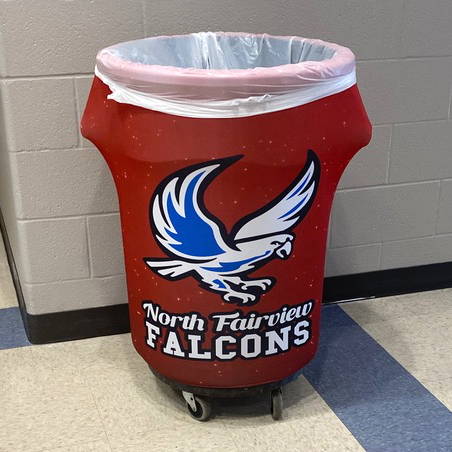 Production Time & Best Price Match Guarantee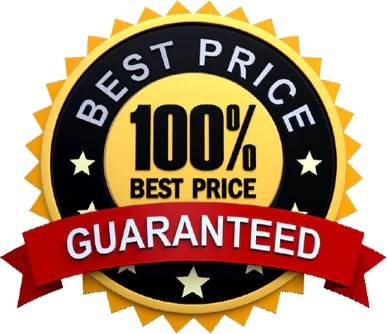 Standard production time is 4 business days. Due to our large printing presses and the relationship we have developed with our manufacturing partner, we are able to also offer 3-day, 2-day, 1-day express and same day rush critical production for last minute needs which we know often come up with branding and trade shows. Premier Table Linens printing values our customers and the reason we not only offer excellent quality and the fastest production, but a 110% Best Price Match Guarantee. Find a lower price (made in the U.S.A.), for the same quantity, with the same production time and we will beat our competitor's price by 10% and refund the difference. Valid for 7 days after purchase. 
With all our custom printed products we offer free, insured UPS Ground shipping. Expedited shipping including UPS Next Day Air Early a.m. is also available. If delivery is to Manhattan or New Jersey, we also offer same day courier service.